World Women's Day will always be a well-regarded day to celebrate, remember, and honor women who have impacted our society. Not only because it's a category of humanity that needs recognition but to give significance to the countless times women broke barriers and stereotypes beyond proving they are abled and "can do what men can do." Moreover, each story of overcoming struggle, bravery, and sacrifice proves their strength in compassion and humanity.
It's not far for Kapampangan women to exhibit this face of love. One attractive lady was Luisa de Leon, born on June 21, 1805, in the Cabangbangan barrio of Bacolor, Pampanga, and is part of a notable Kapampangan clan.
She was a pioneer woman who left a lasting legacy in literature. In 1844, she achieved an exceptional feat by writing and publishing a book that no other Kapampangan man or woman had ever done.
Acknowledged as the first Kapampangan and Filipino woman to author a book, she used her well-versed knowledge of language and writing to translate the Missal (the text of the Mass) to Kapampangan, making her the first Filipino to translate the reader into the vernacular; an act that was suspected as a move against the Spaniards, but for Luisa, it was an achievement and a massive step for Filipinos. She is best known for her daily devotion book with a Spanish title called "Ejercicio Cotidiano," or Daily Devotion, a 308-page book composed of common prayers and spiritual devotions translated into Kapampangan.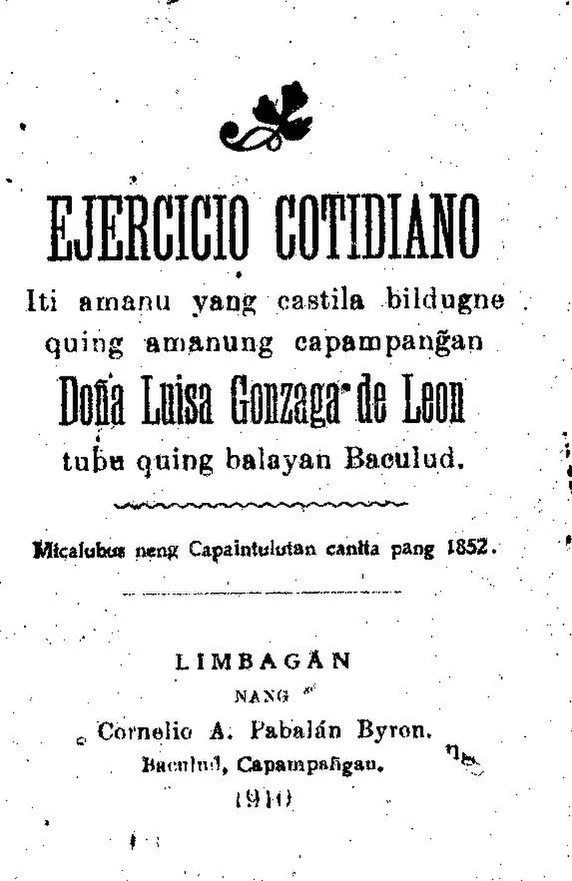 According to historian Dr. Luciano Santiago, De Leon was "well ahead of her time" because her translation of the Mass in the vernacular would be an innovation of the Second Vatican Council more than 100 years later.
Despite her challenges as a woman and a writer in a male-dominated society, her passion and commitment led her to produce literary works that reflected her social consciousness and advocacies. Her impact reshaped the Kapampangan literary tradition and influenced the succeeding generations of writers.
Her accomplishments, love for the country, and heroism expressed in literature left us in awe of admiration. Even today, her writings are being studied and commemorated as a reminder of preserving our cultural legacy and promoting gender equality, that women are capable of more than what society thinks.
Luisa stood as a symbol of resilience and courage, representing a strong woman. Her strength inspires her to defy social norms and create positive change using learned and innate talents to improve our society. She taught us the power of writing and translation that leaves a distinctive mark on history.