Angeles City, Pampanga — local Kapampangan artist Harvey San Miguel opened his first solo art exhibition entitled LINYA at the Vessel Coworking Space last August 5, Saturday, and will be open to the public from August 7 until August 12, 2023.
Friends and family attended the event, including colleagues from Tarlac State University (TSU), curators from the Museum of Philippine Social History and Museo Ning Angeles, and local art groups like unARThodox and Paper Soul.
Guests of honor delivered speeches and testimonials about San Miguel and his artworks, including Mr. Jessie M. Tadeo, Chairman of TSU – Fine Arts Department, Mr. Aaron D. Rivera from unARThodox, and Ms. Anjela G. Morales from Klaypel (exhibit sponsor), whose message was read in behest.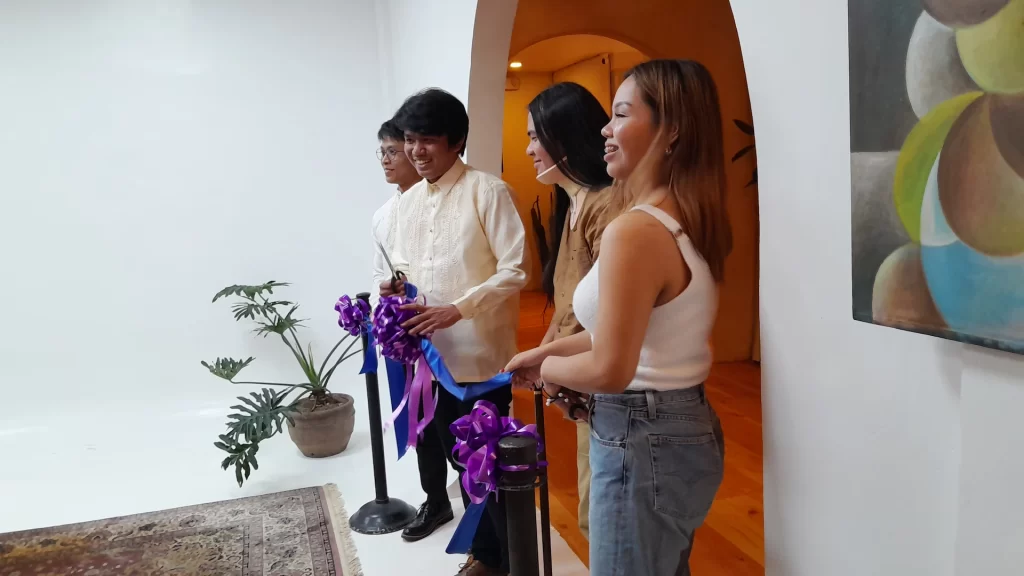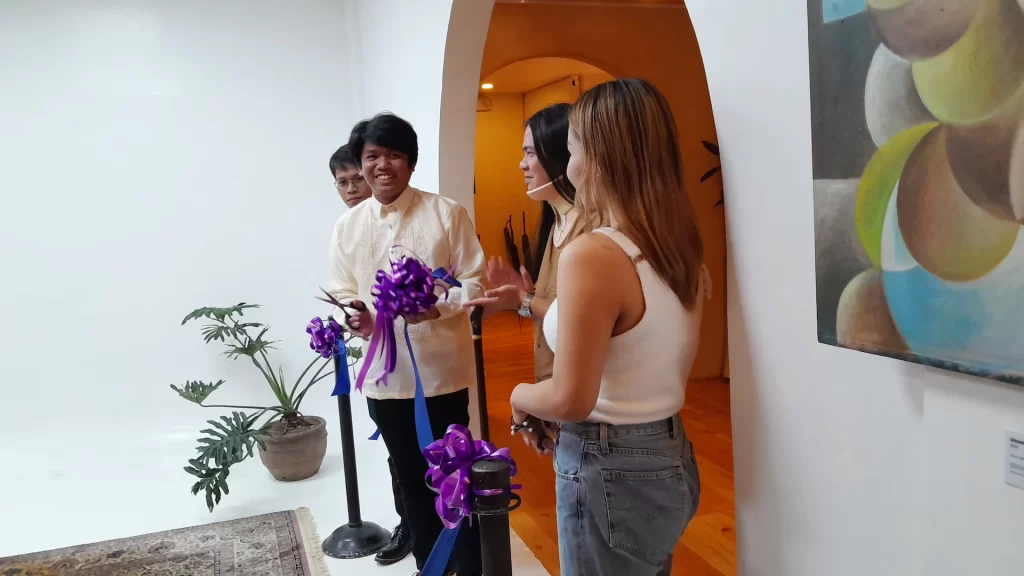 It all starts with a "line"
According to San Miguel, the exhibit's title and inspiration, LINYA, is a reflection and way of honoring how he started as an artist and, in practice, how his and every artwork begins to become a work of wonder on any blank canvas- a line.
Each painting begins by drawing out lines. Since his college days, Harvey has dreamt of having a solo art exhibit, and it became a reality last weekend.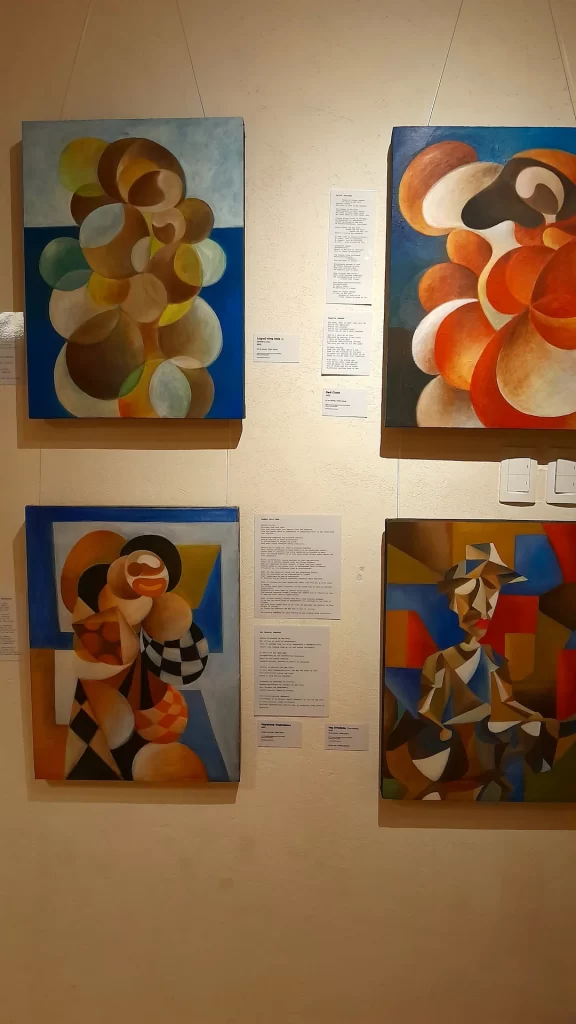 "Aldo'ldo buri ku makagawa kung sketch, kaibat nung akit me ing 'linya' lima yang letter, oneng karagul na meaning, nung makananu me lawen, makananu me gamitan," (Everyday I really want to make a sketch, and if you look at the word "linya" it's just five letters but carries a broad meaning, depends on how you look or use it) shared the artist.
He affirms that lines we draw, either by intention or not, structured or abstract, show us our similarities in their differences that reveals our everyday call to love and hope.
A personal touch on cubism
"Mig-enjoy ku king cubism" (I enjoyed cubism) – this was the simple yet profound answer from San Miguel when asked why he chose cubism to be his painting's theme for his introductory solo art show.
Cubism is a revolutionary art approach to representing reality and is known to be a style used by renowned artists like Pablo Picasso and Georges Braque.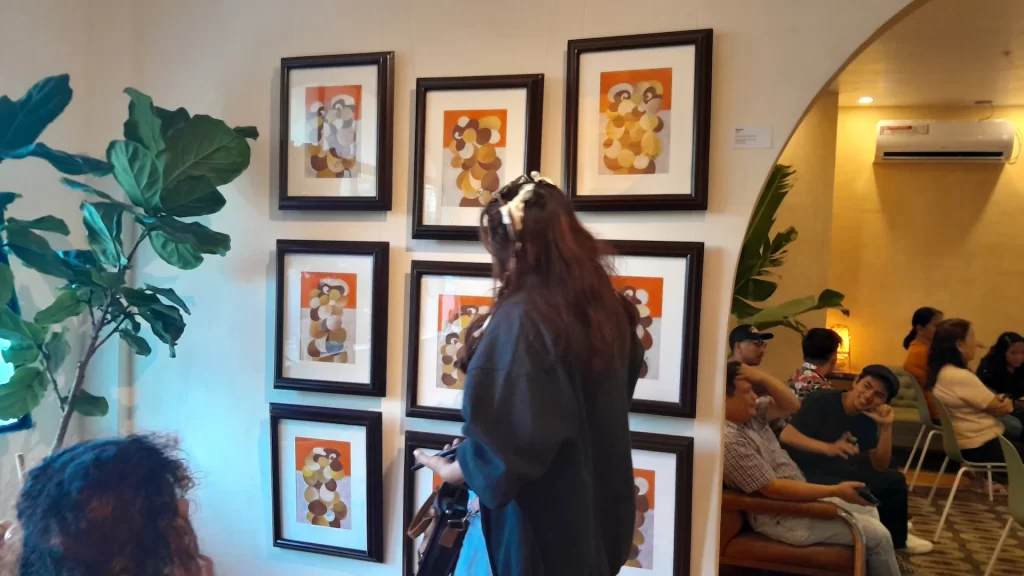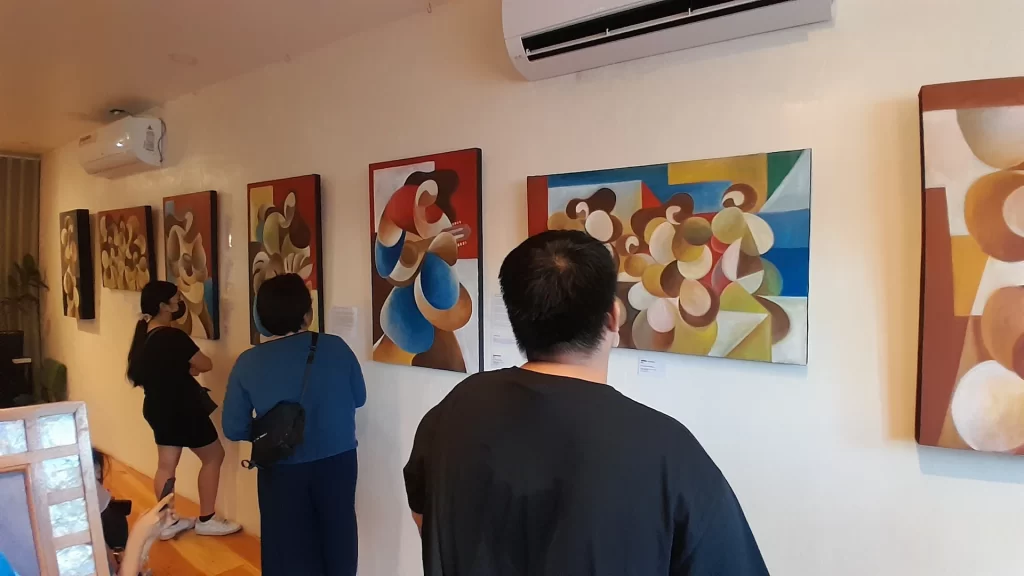 San Miguel's cubist take on everyday Filipino experiences creates a signature to his name. "Pane atsu king isip ku, gawa ku sarili kung style, itang patse ikit de ing artwork ku, kanaku ya tambing, akit da kaku ya gawa," (I've always thought that I'll make my own style, that when they see my artwork, it's mine, they see that it's my work) he said.
Several paintings at the exhibit took several years before being completed, some even pre-pandemic years. His artworks are relatable and can take a viewer to recreate memories we have seen or experienced, from a person carrying bread for merienda, older women using their fans at church, and even the stereotypical morning gossipers or tsismosa.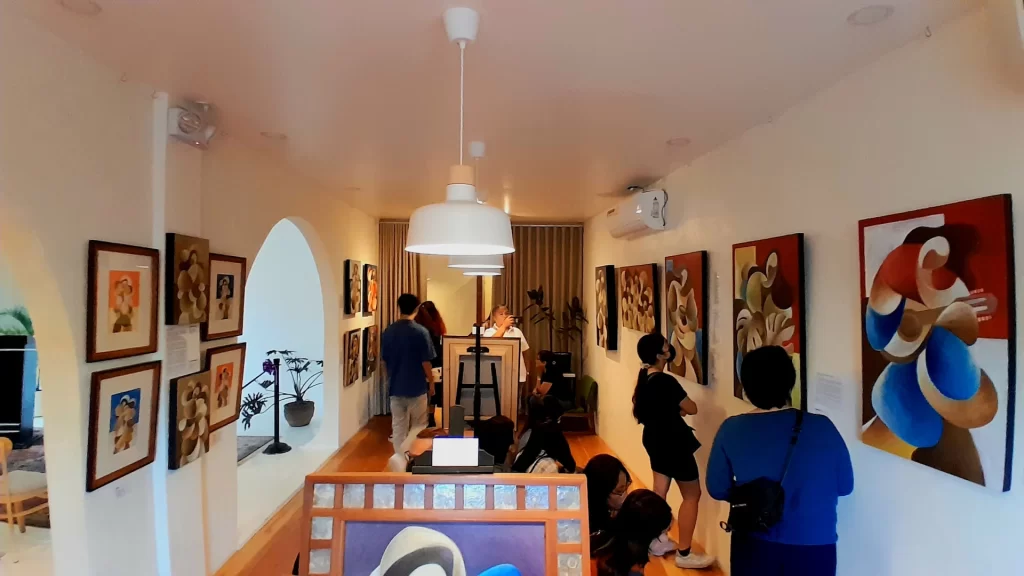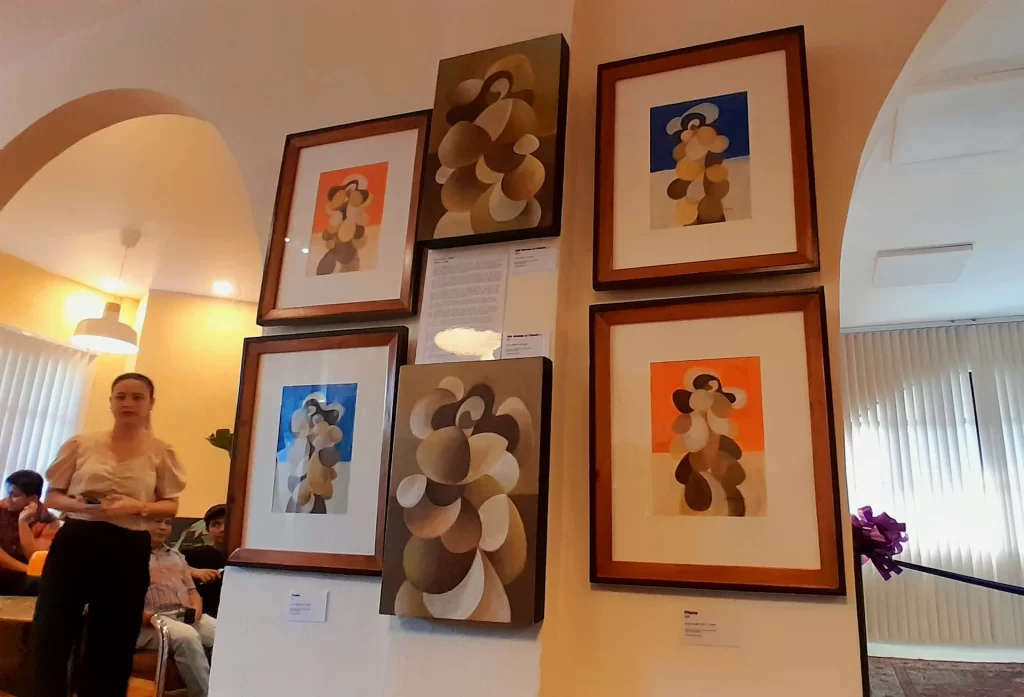 "Basically, nung nanu la reng akakit ku, king pisamban o kaya kabang lalakad, nanung kultura tamu, ila ring gagawan kung artwork," (Basically, what I observe, be it in church or while walking, our culture, these are what I turn into artwork) he added.
In general, his exhibit aims to bring into life the stories and Filipinos' customary practices through his artistic and own perspective with cubism.
Poetry amidst the paintings
Adding ingenuity and to tickle visitors and viewers' imagination, poems by local writers and poets accompanied each of San Miguel's paintings.
Contributors are Erica Fule, Bianca Bonifacio, Precious Magdaleno, Aileen Araña, Clariz Laxa, Arlin Salonga, Fenella Samson, Anthoinette Mercado, Beverly Taguba, Ana Lea Villaluz, Luddie Salcedo, Aravela Ortiguera, Arielle Angelique, Anghel dela Cruz, Martin Jeremy Dizon, Bon Morales, James Gomez, and John Benedict Enardecido.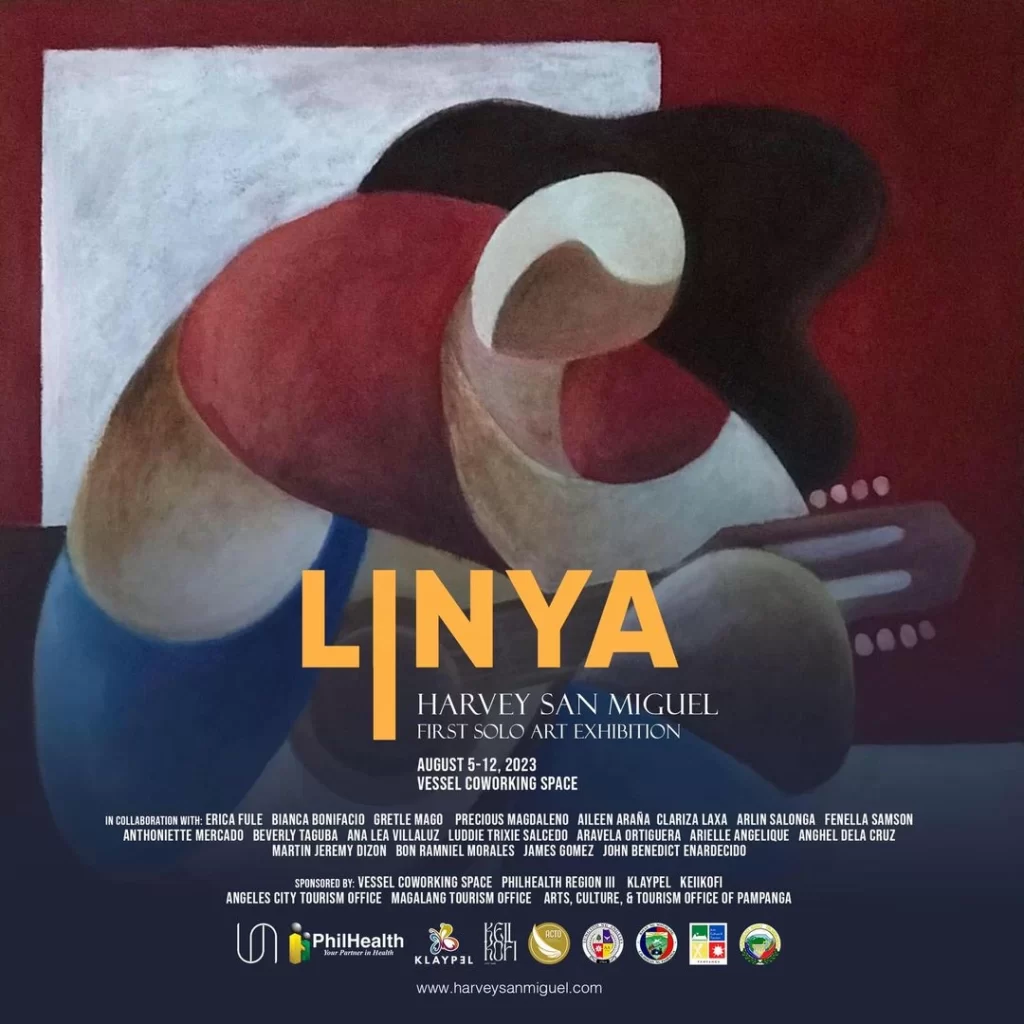 The exhibit is sponsored by Vessel Coworking Space, PhilHealth Region III, Keikofi, Klaypel, Angeles City Tourism Office, Magalang Tourism Office, and the Arts, Culture & Tourism Office of Pampanga.
Exhibit hours are from 8am-7pm. Visitors, buyers and collectors, may visit www.harveysanmiguel.com to learn more about the exhibit and the paintings.
Want your event to get featured? Email us at metroclarkguide@gmail.com