The beauty of bread is that it doesn't require complicated ingredients or complex skills, you can get them stocked up at stores or get fresh oven-baked ones from street vendors biking on the streets every morning or at local bakeries. 
Ah yes, a cup of coffee or Milo paired with scrumptious warm bread over fried hot dogs, eggs, or even pancit canton; a perfect routine for every Filipino household to keep them up the day. As bread becomes a staple it has etched itself not only in the culinary culture but also in the society's traditional stream of food tourism.
Each city or province has its own local bread and bakeshop everyone must visit! Pampanga has a few:
L.A. BAKESHOP
Crowned as the "Home of the Original Cheesebread", L.A. Bakeshop has been nationwide's favorite due to dozens of praises and compliments it received from well-known personalities.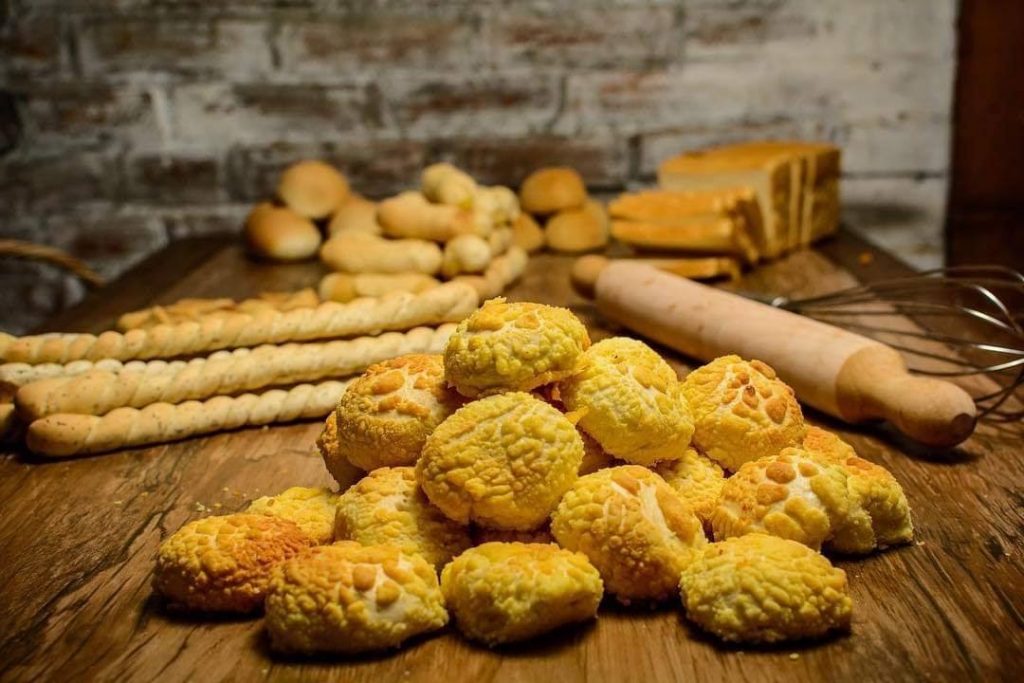 Locals would often buy a box of these sweet-savory and munchy cheese bread to give as "pasalubong" for visiting friends and family members. It's like giving a piece of Pampanga for them to enjoy on the road. They're so good, they get sold out before even the day ends.
Now with several stores scattered across Pampanga, getting that cheese bread would be easy. You can also visit the main store along Jose Abad Santos Street in downtown San Fernando City.
Instagram: https://www.instagram.com/labakeshoppamp
Facebook: https://www.facebook.com/la.bakeshop1985 
NATHANIEL'S
Their ever-famous buko pandan, puto-pao (puto stuffed with asado), and pancit are consistent best-sellers!
Photo credit: Nathaniel's
Followed by their best-sellers, locals and food tourists were also highly infatuated with other food like siomai, ensaymada, and pork barbecue. Locals would often buy the said products every Christmas and New Year to celebrate Noche Buena and Media Noche. If you want to experience the best thirst-quenching buko pandan drink, you may visit them in McArthur Hi-way, San Fernando and other branches.
Instagram: https://www.instagram.com/nathanielsph/
Facebook: https://www.facebook.com/NathanielsBakeshop
CROISSANTS DE PAMPANGA
Ever wanted to eat french bread and pastries without stepping a foot outside your homeland? Croissants de Pampanga is for you. They have top-selling croissants and fruit-filled cheesecakes that will surely tickle your senses.
Photo credit: Croissants De Pampanga
They serve croissants that are flaky on the outside and a soft texture on the inside, which makes them perfect for snacking. Basque burnt cheesecake is a creamy, melt-in-your-mouth cheesecake that you will never forget. With their best-selling croissants and fruit-filled cheesecakes, you wouldn't have to travel far. Just visit them in San Fernando for some slice.
Instagram: https://www.instagram.com/croissants.depampanga 
Facebook: https://www.facebook.com/croissantsdepampanga 
LA VIENNE BAKERY
We all live for Instagram pics! If you are looking for an Instagram-able place to visit and take pictures, La Vienne Bakery will not fail you. Not only do they serve the best cakes in Angeles City, but they also have the most adorable place to dine in.
Photo credit: La Vienne Bakery
La Vienne opted for the original recipe of Basque burnt cheesecake and Angeleños couldn't get enough of it. They buy La Vienne products for their loved ones on celebrations like birthdays, anniversaries, or even just a normal day given that they also make time for cute packaging as well. If you want to stop by and see their place, visit them along Friendship Highway, Angeles City.
Instagram: https://www.instagram.com/laviennebakery
Facebook: https://www.facebook.com/LaVienneBakery 
YUMU BAKESHOP
Yumu Bakeshop is popular for its Sans Rival and Tinape ning Bie (Bread of Life) that come in different flavors. Yumu uses Kulitan – a súlat Kapampángan, one of the various indigenous suyat writing systems in the Philippines. It was used for writing Kapampangan, thus making Yumu a unique brand
Photo credit: Yumu Bakeshop
Kapampangans love sweets. This is why Yumu gained its popularity because they serve sans rival with varieties of flavors to choose from. Gift-giving their cashew sans rival and pecan sans rival as pasalubong or presents reminds you of how sweet Kapampangans are. But if you opted for a healthier alternative, they also have Tinape ning Bie that consists of simple ingredients and is stuffed with flavors.
Check them out in Pulung Bulu, Angeles City.
Instagram: https://www.instagram.com/yumu.bakeshop
Facebook: https://www.facebook.com/yumubakeshop