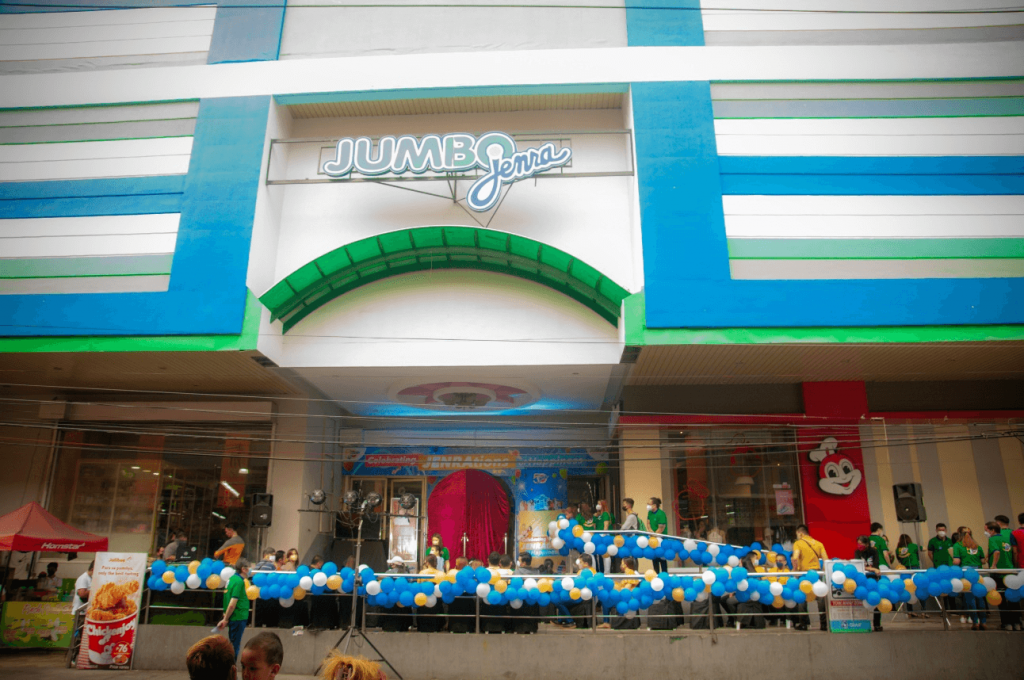 For JENRA GROUP, 50 years of continued service deserves no less than a fun, year-long celebration, which opened with a colorful evening program last Friday (April 29) at their first Jumbo Jenra Branch in Jumbo Jenra Angeles.
Attending the opening of the #CelebrateJENRAtionsofHappiness event were JENRA Board of Directors; Ms. Josefina Tan Siy- CFO, Sacred Heart Medical Center, Mr. Edgardo S. Tan, President and CEO of the JENRA Group of Companies, Ms. Nenita Tan- President of Sacred Heart Medical Center, Mr. Ricardo S. Tan, CEO of Jumbo Jenra Angeles, and Mr. Albert S. Tan, Managing Director of JENRA's Food Franchises of Jollibee Foods Group.
THE JENRA story began more than 5 decades ago, when 19-year-old TAN SONG BOK from Fookien, China, arrived in the Philippines after days of travel via measly boat and tried his luck with his simple goal of owning a small business. JENRA started the concept of superrete in the 1970s and has emerged as a large-scale supermarket brand. Armed with determination and perseverance, what started as a modest grocery store in Angeles City has now expanded to different industry segments from retail, real estate and a medical institution.
Over the years, JENRA has changed the lives of thousands of Kapampangans through their notable projects and developments. The JUMBO JENRA chain of Supermarkets is JENRA's main line of business and has grown close to the heart of the locals as it has been a part of every household in the progressive cities of Angeles, Mabalacat and San Fernando, and soon to open in Apalit. The thrust of JUMBO JENRA is to provide a venue for retail grocery shopping while offering affordable wholesale prices.
JENRA GROUP's first medical institution, Sacred Heart Medical Center, located at Brgy. Sto. Domingo, Angeles City, is a private, tertiary hospital opened to serve the community on November 2009. Sacred Heart Medical Center envisions to be a teaching, training and research hospital and the pioneer center for cancer prevention.
The JENRA GROUP has grown brands that bring delightful dining experiences to its customers, JENRA GROUP holds over 30 franchises of our well-loved Jollibee in the provinces of Pampanga, Tarlac and Nueva Ecija.
Emboldened by the success of these pioneering developments, JENRA GROUP ventured forth into bigger and ambitious projects spreading its footprint in Pampanga and beyond.
A premier destination for business and leisure, The Infinity will be the first and the largest Central Business District (CBD) in the whole Central Luzon and is JENRA GROUP Iconic Flagship development. The Infinity will be an integrated township in the heart of Angeles City. It's a self-sustained development that has high quality and modern structures amenities designed for commercial, retail and educational purposes.
JENRA GROUP creates positive community impact and promotes social development through responsible actions across our footprint.
The JENRA FOUNDATION INC serves as the heart of the JENRA GROUP, focused on social inclusion by nurturing and caring for underserved communities where JENRA is present. Established in 2013 by Tan Song Bok, JFI continues to pursue our mission which is anchored on our founding principle that no one in the society must be left behind. We are committed to serve by supporting and empowering our host communities through education, healthcare, shelter, disaster response, and scholarship programs.
JENRA GROUP in 2019 has grown by leaps and bounds with the addition of AC Victory Realty Development Corporation and Building to Success Construction Corporation. Our workforce has grown exponentially and so as our business. With our growth came a reward not only in our revenue, but also in things far more valuable like generations of families whose lives we have touched and changed for the better, said Mr. Byron John Siy.
JENRA is celebrating its 50th anniversary with a year worth of activities planned at its group of companies. Last April 29, JENRA GROUP also unveiled their symbolic 50th icon, which signals the start of our yearlong celebration. Yes, we're 5 decades older, it allows us to be nostalgic but it's not the history we're celebrating now, we're celebrating our future. – Siy added.