In the pandemic's absence (God-willing), we would be gathering at cemeteries this November 1st, uniting with friends and relatives to pay a visit, pray, and remember our loved ones who have gone before us. 
We never forgot them.
The pain of their loss may have subsided, but there's still that immovable sting we feel as we exchange stories and moments when they're still alive, while for afterthought, we struggle to imagine what would have been different in the present if they had not left us.
These "what-ifs," these questions. Tiny needles we often walk through while keeping ourselves alive in an existential process we call- moving on. They make us reflect on circumstances that have not come to pass but will come, like reminders of how life, no matter how larger it is in the greater scheme of things — will always be fragile.
And it's these themes, and personal experiences of grief and family that one Kapampangan in New Zealand created the story behind a film made in New Zealand called Mekeni (Come Here).
MADE IN NEW ZEALAND, TOLD BY A KAPAMPANGAN HEART
Mekeni is a story written by Marianne Infante. It built a world that gives us a glimpse of familiar experiences we all know: the unconditional love of family, the process of grieving and facing loss, except that also tackled the reality of fear.
Marianne, in an interview with Metro Clark Guide, pointed out that the story was born from a conversation she had with her mother involving questions about life that we are often afraid to confront.
"In telling this story, it takes a great amount of vulnerability to expose the hard truths of what I have experienced between my parents. It's more born of my fear of what would happen (being the eldest) to one of my parents when the other dies. (regardless of who goes first)." Infante shared.
"How would my parents survive? How would I cope? How would I cope while one of my parents cope? These are questions that were on my mind. I've witnessed their (Papa and Mama) love for each other growing up and how they work things together… who would they turn to when the other suddenly goes away?" She continued.
These observations and internal queries helped weave a groundbreaking short film that tells an authentic Filipino immigrant story and claims screen history as New Zealand's first short film in the Kapampangan language.
It's no secret how migrant parents are always the stronghold of a family when they move to a new country, far away from the people they've grown up with and known. Each becomes a shoulder to lean on, a leader, a guide in overcoming issues and difficulties by migrating to another country like language barriers, cultural differences, and lack of empathy from one's family members.
The film simply highlights how a strange land no longer makes sense if the person who helped you move through it is gone. Mekeni traces a migrant widower-father, Noel, and her daughter, Erica Santos (played by Marianne Infante), coming together after the loss of their family matron- Gerlinda.
A SENSE OF HOME
Now just a disclaimer– Marianne's parents are both well and alive. (I knowww) But, it just shows how her vulnerability and courage in addressing realities helped her create a prolific story we, as Filipinos, not just Kapampangans, understand but often left unto ourselves.
When it was released a month ago, many assumed (especially here in the Philippines) that it was a pandemic-related story. In some ways, it does, as we've all said farewells to many people we lost due to the COVID, but beyond that, it strikes another virus that plagues our family and culture, losing the sense of home.
Marianne, who has garnered fame in New Zealand with roles for shows like Shortland Street, tracks how she came to see that the pain of losing a sense of home is far more dreadful than the loss of someone we love.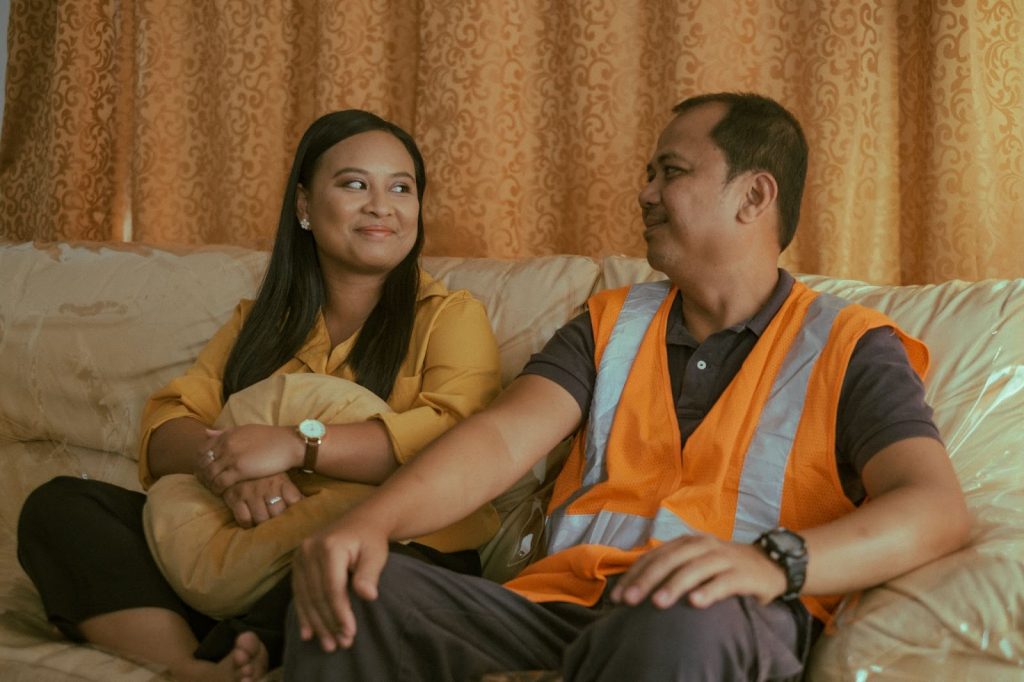 This obliteration of security found in family and sense of belongingness has been a challenge often ignored by many Filipinos, especially those back home who always see migrant life as great and carefree. 
Beyond the love story and the narrative of moving on, the film raises social regard for migrants' fear of being left behind and alone. A feat that Marianne, co-producer Todd Waters, and director Alyssa Medel-Khew, were able to create and made possible through this drama.
The project also became a platform in helping save the Kapampangan, which coincidentally, like the protagonist in the film, needs help and guidance to continue living in what he considers home.
"Mekeni is all sorts of wonderful for me. This is the first EVER project where I have expressed myself in my indigenous reo, the language I feel most at home in, Kapampangan. To be able to write this story in my language, and work together, with fellow Asian creatives, to tell more authentic stories about immigrants (with such care) has been a highlight of my career so far. This project is a love story to my culture and my whanau and I can't wait to share it." Marianne proudly shared.
As we move forward in this pandemic and we come together in our own way to remember and celebrate our departed loved ones, let's all look back to the reasons they made us feel what home is and why, despite their absence, it continues to be.
Watch Mekeni here: youtube.com/watch?v=KtfgXqUEejg