What is the strangest thing you've done to find "the one?"
Kapampangan Millenials and Gen Z (and a few Boomers) alike have no idea that when it comes to flirting and finding a compatible life partner– our ancestors were quite competitive to win someone's attention.
Seems normal?
Well, they do it with a debate, poetic riddles, and the venue is at someone's wake or burul.
It's been a social imperative for neighbors and friends to come by at someone's wake. It is not just to give their condolences and comfort to the surviving family members (or go gambling- magsakla) and substitute as watchers over the deceased as family members catch up some rest.
Even in the olden days, keeping watch over the dead is rooted in the lore of a terrifying magcucutud, a Kapampangan imp similar to manananggal; people are up all night in a vigil, protecting the body from the said malevolent creature.
But as the tradition goes on, many visitors paying their respects need to do something to pass the time, and in any group gatherings, the young men and women play a game– Caragatan.
Caragatan, in its earlier form, is an exchange of smart arguments between sexes structured like a question-answer game. It is facilitated by someone acting as "judge," selected by the majority of the group.
It starts when the gentlemen deliver a monologue on love, later challenged by the ladies. You might think it's a loud spectacle and improper for a wake where people are mourning, but participants are well disciplined enough not to disturb the family and vigil. The boys need to boast how respectful they are or merely showing off to one another they are educated individuals, prim and proper.
As serious as the rules are, the judge's decision is irrevocable. A losing individual could end up getting married to the winner (if the winner is a boy). If the loser is a boy, he must accomplish errands and chores for the girl's family (forever), not as a slave, but in a way, a new member of that family.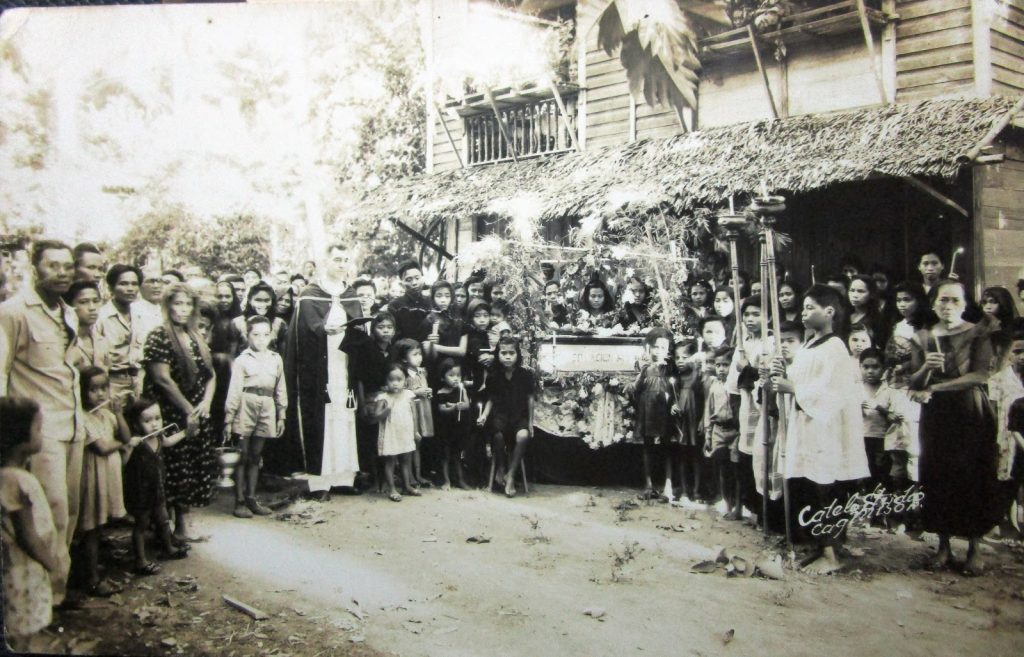 Nowadays, it would be quite alarming how one game can be the only motivation for choosing a spouse. But back then, when boys and girls rarely had moments alone for conversation, while parents rest on arranging marriages for their children– caragatan is an opportunity not to be missed.
It's an event! A one-night stand of the past. A mass courting where one shares his or her convictions on love and expectations on family life. Everyone prepares for it. Though ironic, as to how someone's passing, which is often met with lament and sadness, is secretly celebrated with hope and joy among the town's single boys and girls.
Years went by, the matchmaking process became more complicated and with many often outgrowing the teenage aspiration of getting married; caragatan soon lost its fervor, becoming a mere game of riddles (bugtungan) and charades (bulaklakan.)
However, one will see how Kapampangan riddles are somehow poetic, mind-testing, and beautifully composed. Some even made riddles on the spot; several examples famously used are:
"Panugali ng lumbug sumaka, mamanik yang abak, gatpanapun titipa ya"– (Flag/Bandera)
"Mitiplad ne't mipulayi, E ya pa bisang kauani, agiang nanan meng panabi, E ya bisang tatabili"- (Kite/Burarul)
"Uling mamalisya la ngan, mipapate la king karelang panwala, anyang misanmetung la, sinampa la ngan king biga"– (Pinanari/Rainbow)
Kapampangans today may not be able to see it, but we can never take away the lessons it taught generations ago, which still transcends our present society. What is important is that it existed, not lost, but evolved– as long as we continue to tell the local monologues, celebrate local riddles, and use the language that gave birth to it, the amanung sisuan– Kapampangan.
Caragatan may have been the public matchmaking trend in the past. But everyone can still adapt its very nature in modern ways, be it tinder or dating apps. What is essential is that it still kindles the values our ancestors learned and kept because of it– critical discourse, romanticism, respect for the living and the dead, obedience to the elderly, and being well disciplined.
Source:
Singsing. Vol 5 No 1. Holy Angel University. Center for Kapampangan Studies
Article by Leon M. Gonzales, H. Otley Beyer Collection on Pampanga, 1916-UP Diliman
www.tarebalakdiscovery.blogspot.com
www.kaplistorian.blogspot.com