WARNING: Spoilers Ahead
Highly anticipated since its trailer release in 2021, Marvel's Spider-Man: No Way Home proved to be the blockbuster it shaped itself post-Avengers: Endgame as Philippine cinemas finally screened it in theaters Saturday, January 8. 
Albeit delayed as to be shown in cinemas last December 2021, Sony pushed back the movie's screening in certain markets due to concern over recent spikes in COVID infection numbers, including the Philippines, Japan, and Norway, among others.
Still, Filipinos made the beginning of 2022 a profound bang as countless cinemas were flooded after the long wait.
Kapampangans prove to be the most excited as they leave SM City Clark and SM Pampanga's first weekend of the movie's premiere fully booked in just a matter of days! With No Way Home's limited screening, people from all over Pampanga head straight to Clark to see Tom Holland in action from the big screen.
SM Clark was jam-packed with people waiting for their turn to witness the greatness of the friendly neighborhood (well, now multiverse) superhero!
Fans' Fantasies Fulfilled
After much speculation and theories, owing to the complicated plotline, which brings in villains from previous Spiderman adaptations crossing-over to Marvel: Green Goblin (Willem Dafoe), Doc Ock (Alfred Molina), Electro (Jamie Fox), Sandman (Thomas Haden Church), and The Lizard (Rhys Ifan), and the movie's side antagonist slash Daily Bugle head editor, J. Jameson played by J.K. Simmons.
However, the most awaited surprise came overpass the mid-scenes into the film when Andrew Garfield (of Marc Webb series) and later Toby Maguire (of 2000's Sam Raimi series) made their guest appearances as Spider-Man from other universes. These two actors stayed on interacting and fighting bad guys along with Tom Holland up to the climactic battles. More special were those sentimental references back to their own series, which brought in a lot of tear-jerking dramatic moments.
Filipinos Represent
In the two sequels, Pinoy fans may have known Hawaii-born Filipino actor Jason Batalon as Spiderman's trusty sidekick- Ned. Still, many weren't prepared for all the Tagalog dialogues from Ned's grandmother, affectionately called "Lola," played by Mary Rivera. Ned's Lola speaks to both Andrew Garfield and Tobey Maguire's Spider-Man in Tagalog without translation in the scene, and Jacob Batalon's Ned translates. One particularly great moment is when she instructs Garfield's Peter to crawl up on the ceiling and clean up the spider web in the corner of the room.
Odd enough, Ned's character was shown to have the ability to conjure magic using a sling ring, which opened the way (literally) for the other Spider-Men to join their universe.
And amidst all this, Marvel crafted a beautiful and memorable scene that already means a lot to the Filipino community.
A Pandemic Puller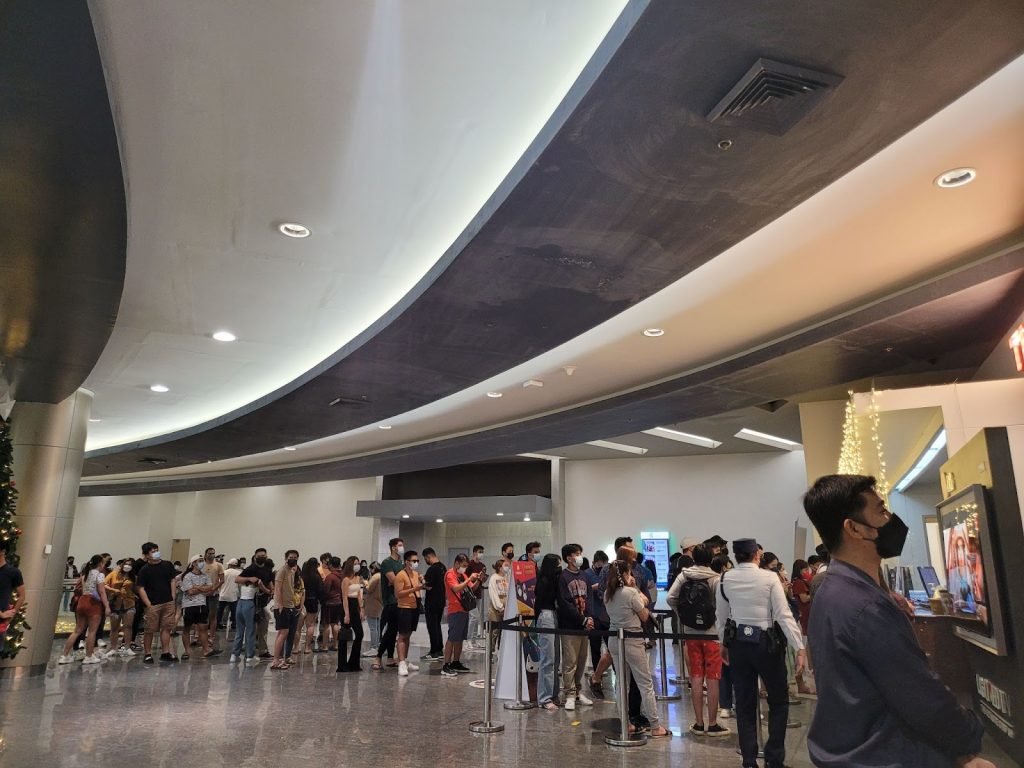 What's most striking about this film is its ability to reel in audiences despite the pandemic. If you think about it, No Way Home's premiere was perfectly timed with cinemas' recently coming back up and running in the Philippines. It's the perfect movie to bring cinemagoers back. Plus, it comes with the nostalgia of life before the pandemic. It somehow signifies our persistence and that we're slowly starting to bounce back despite the very lengthy and tireless pandemic.
Labeled the top-earning pandemic era movie, Spiderman: No Way Home has reached a staggering revenue of $1 billion at the global box office! Of course, the movie's timely success is thanks to its star-studded cast's pull and mainly due to the countless theories surrounding the movie's multiverse plot. Spidey fans of all ages have come together, looking forward to the mystery and surprises the film brings.
Don't have tickets yet? You can check screening schedules, book your tickets, and reserve your seats via www.smcinema.com. As ecstatic as you may be to see the film, it's still important to stay safe. Remember to wear masks, bring your vaccination card, follow safety protocols and take the necessary precautions.
Oh, and one last thing and probably the most important reminder to all: NO SPOILERS! Don't be a party pooper and let the others who have yet to watch the movie enjoy it too! So keep your lips sealed! And for everyone else who hasn't watched the film yet, be sure to surf the net with extra care to avoid spoilers.