The tradition of dressing up as monsters or ghouls, knocking on doors dates back hundreds of years and is essentially the icon of Halloween costumes and trick-or-treating.
Halloween has evolved into a secular but neighborhood-focused celebration, with town-wide festivities serving as the main attraction. Today, Halloween is seen as a fun occasion where people dress up- especially in Pampanga.
Every year Kapampangans organize haunted events, both scary and fun for the whole family. Enjoy nocturnal parades, haunted houses, eerie movies, ghost tours, and the like on this one spookish night.
We scared up the Halloween events in and outside Clark for you! Check out these events in Pampanga and make an outrageous entrance!
STEP INTO THE ENCHANTED FOREST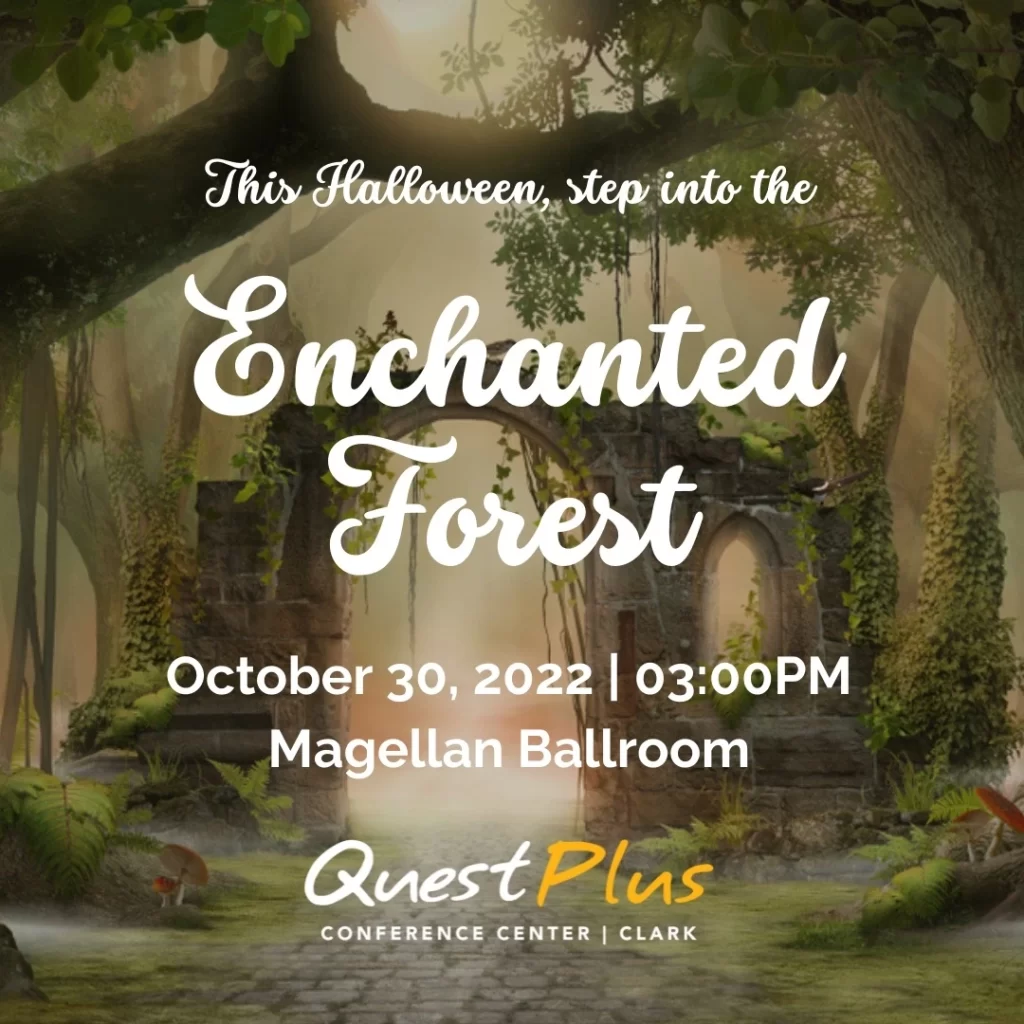 Quest hotel – Get into your scariest Halloween attire now and invade the Enchanted Forest on October 30, 2022 at 3 PM at the Magellan Ballroom.
Join the fairies, elves, and other magical characters in an enchanted land filled with intrigue and thrilling adventures. Tickets come with a live dinner buffet, a goodie bag, snacks, a magic show, a Halloween fashion show, raffle prizes, special prizes, and much more!
Earn 10% off by purchasing a ticket before the first 20 people. To reserve your tickets, send a message or dial 0998 587 8066 or 0998 587 8068.
BOO-TIME IS BACK HALLOWEEN PARTY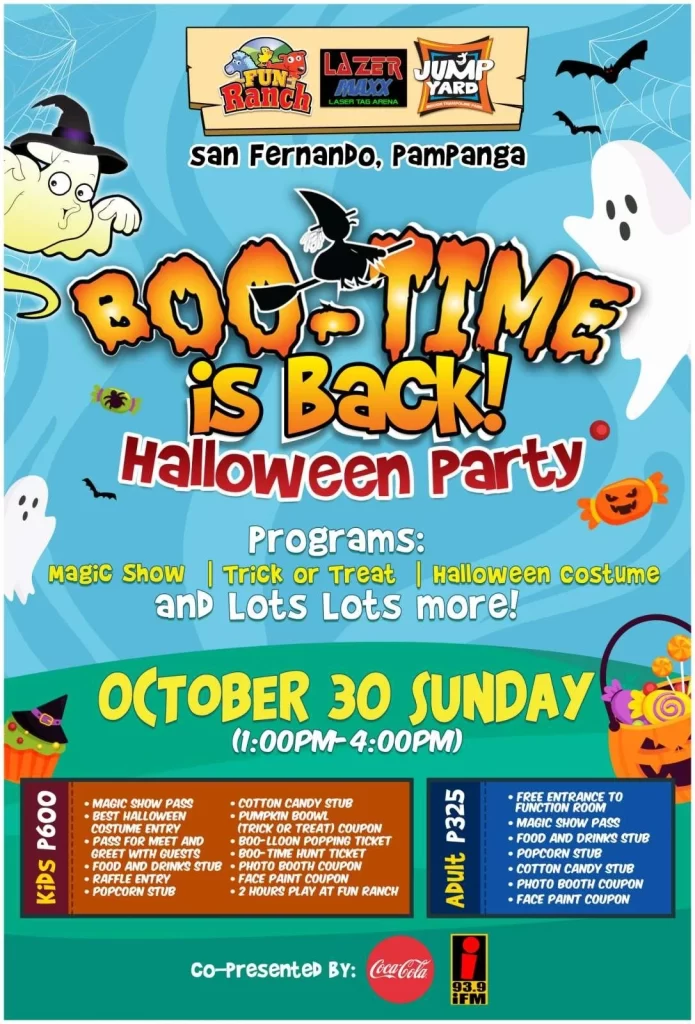 Fun Ranch Pampanga – On Sunday, October 30, 2022, magic tricks, triple the fun, and more awaits you!
This Halloween, we're in for a FUN-mazing treat as FUN RANCH, JUMP YARD, and LAZERMAXX present BOO TIME IS BACK, a kid-friendly Halloween celebration you won't soon forget!
For purchases, please message us right away! To learn more, check the poster.
COME IF YOU DARE TO OUR HALLOWEEN PARTY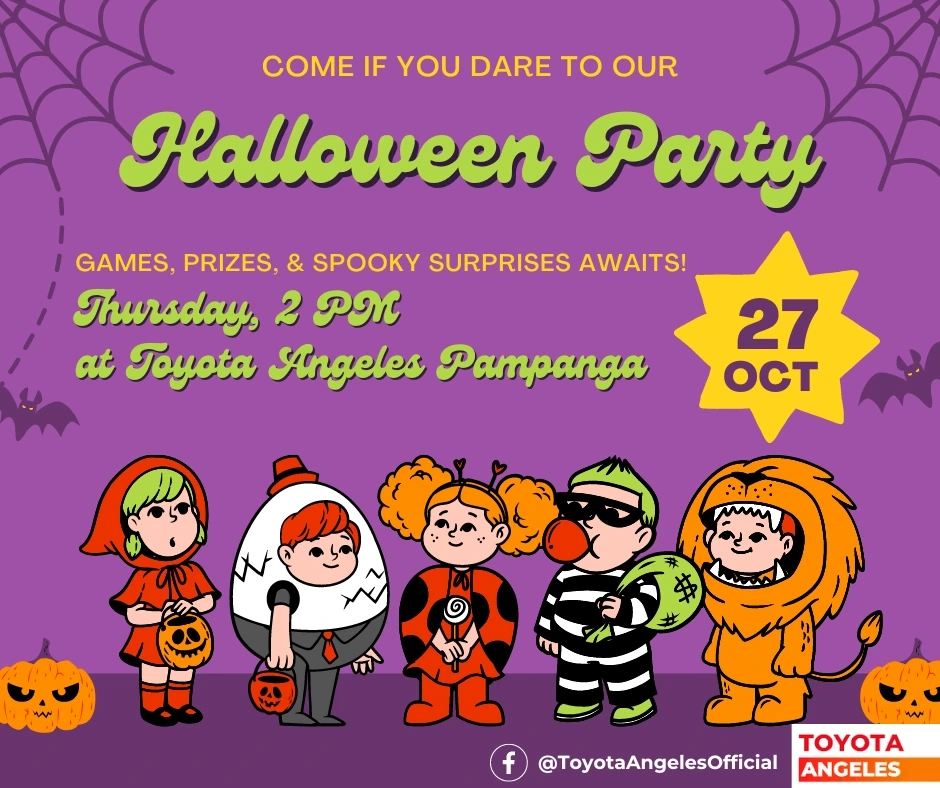 Toyota Angeles – Posted on their Facebook page, Toyota Angeles Pampanga invites you to their Halloween Party this October 27, 2022, 2pm. The kids are in for games, prizes, and spooky surprises, so dress up in your scariest attire!
WIDUS FUNSYLVANIA IS BACK! 🎃🦇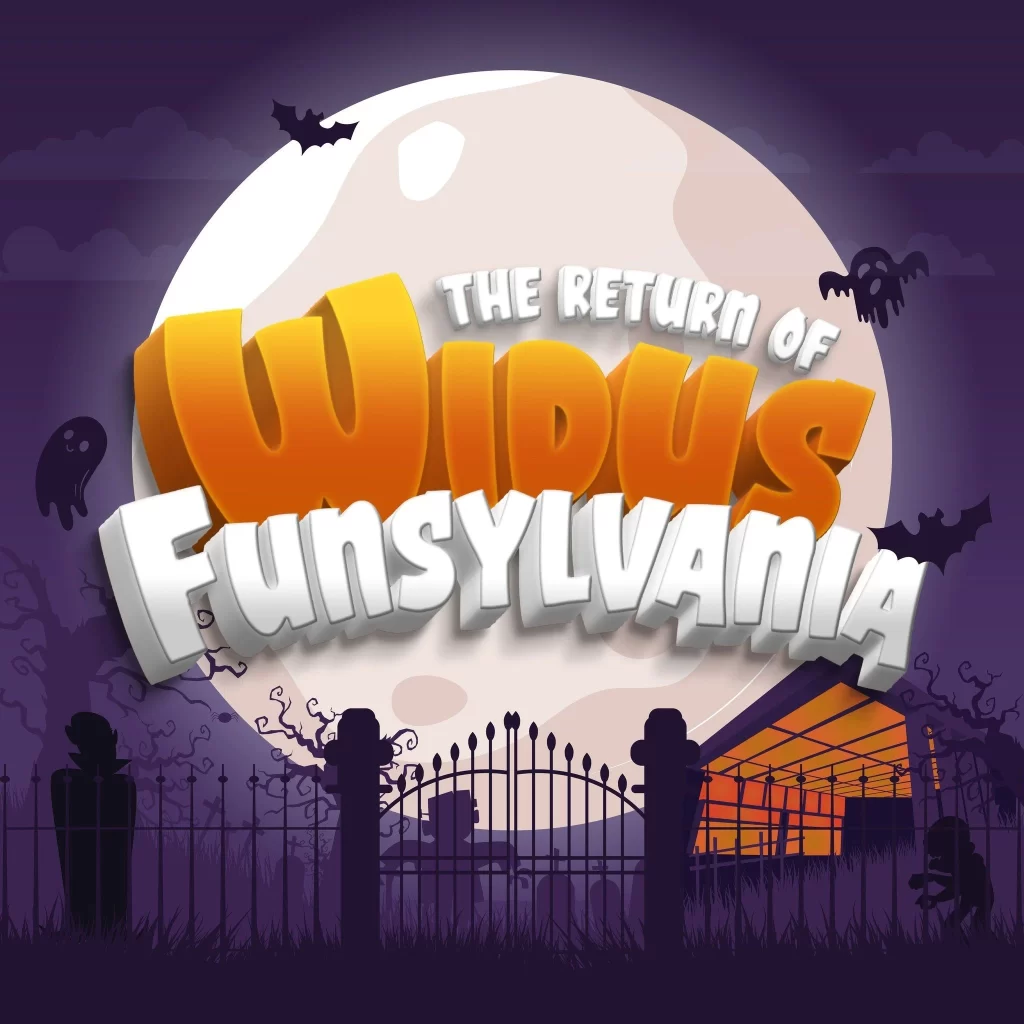 Widus Hotel and Casino – For this event, you're invited to the frightfully fun event on October 29, 2022, at the Widus Grand Ballroom.
Come to the Halloween event for a chance to win an overnight stay for two (2) and join in on the excitement by dressing up in your spookiest Halloween attire!
Rates are listed as follows:
Child (6-12 years old): Php 899 net
Adult: Php 1199 net
*Children aged 0-5 years old are free of charge.
For inquiries and reservations, call at (045) 499 1000 or send an email at sales@widus.com.
MAGICAL HALLOWEEN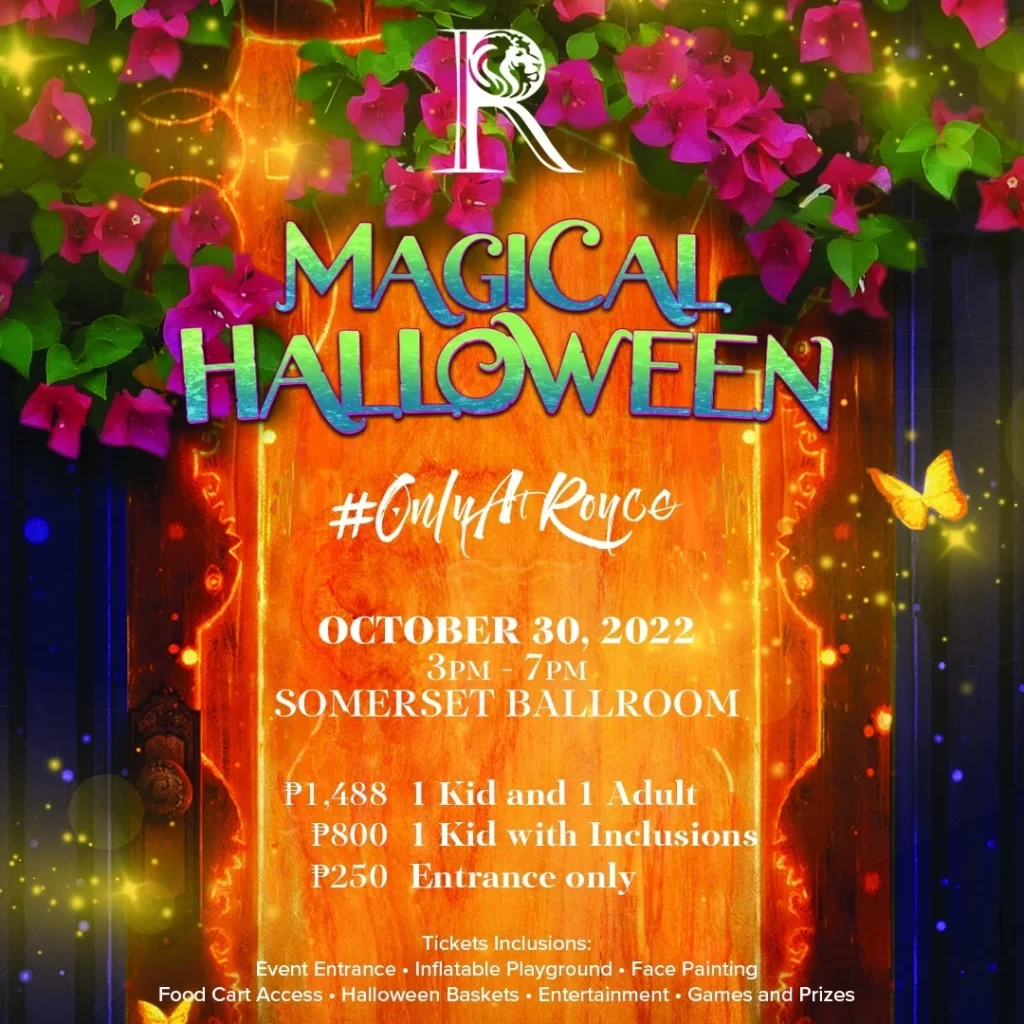 Royce Hotel and Casino – Still in for more fang-tastic treats? This October 30th, something enchantingly magical will unfold! Spend the day engaging in enjoyable activities, bonding, and other things. 🎃
NETFLIX AND KILL HALLOWEEN PARTY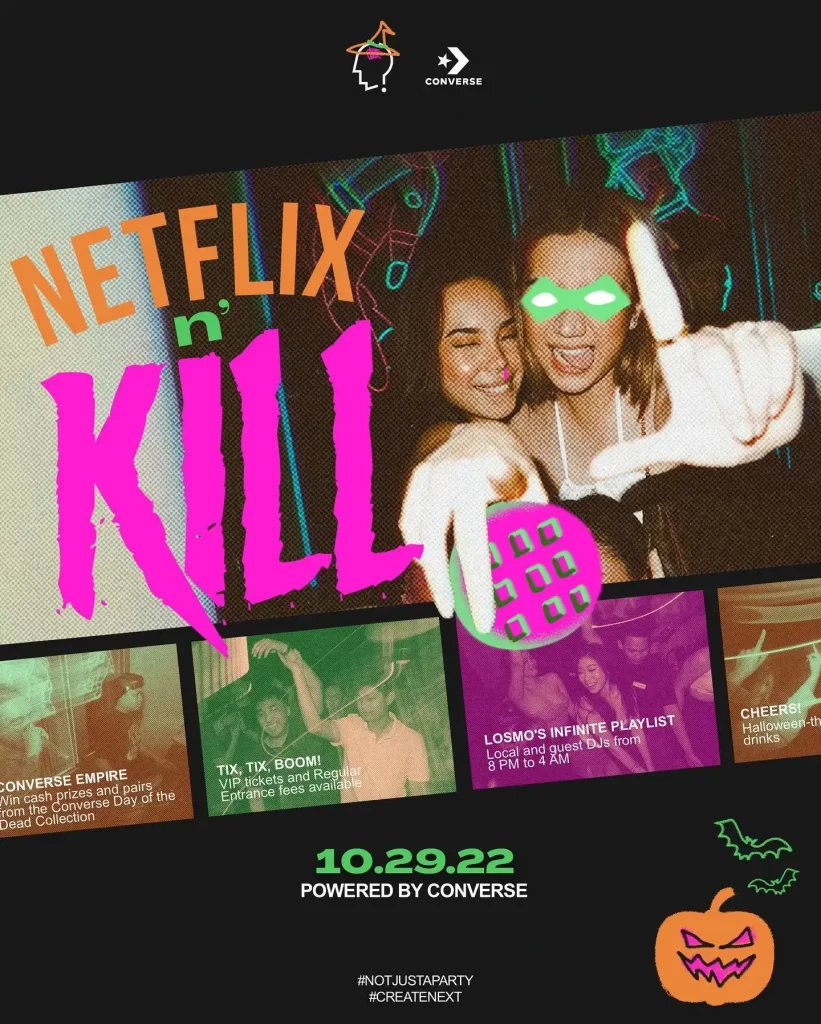 LOSMO FOOD AND DRINKS – Pick your favorite Netflix costume this October 29, and whatever you do, don't go to sleep. Go big or get scared for the chance to win special prizes from Converse for the evening's best costumes! 👻 Get tickets today.
HORRIFIC HALLOWEEN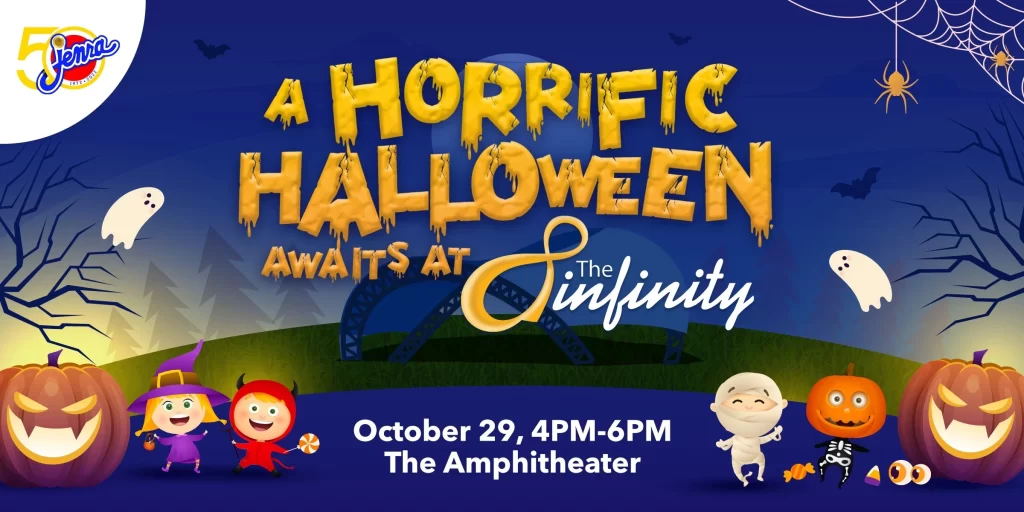 THE INFINITY – Want to have a Halloween that is incredibly fun? Carry it out at The Infinity!
Along with having a ton of weird fun, your kids will also get a chance to win prizes worth up to P5000 and more! Make sure your children are as frightening as you can for our costume contest and trick-or-treating, which are available to children aged 1 to 12! 👻
As much fun as the Halloween event sounds, the world is now slowly going back to the new normal, it is still advisable to keep an eye on following the protective measures regarding fortifying yourselves from the viruses as there are tons of people to spend the party with.
Happy Halloween!