Pampanga, specifically Metro Clark and Angeles City, are eyed as the new booming investment hub in the country.
The Business Process Outsourcing (BPO) industry is one of the catalysts for development. Modernization means allowing people to get a hold of job offers given by companies in a few clicks, leading businesses to take an extra leap of placing job openings online.
Most profitable organizations conduct their internal communications and transactions online in the new normal setup, including job recruitments. But the acquisition of a workforce was never an easy task for any company such as TopData, an outsourcing solutions provider specializing in IT equipment based in the Philippines. Pandemic-related impediments like travel restrictions and limiting protocols hindered them from holding job fairs.
Though probable candidates quickly tap TopData's social media communications, it resulted in a surge of inquiries sliding in daily, which exhausted thirty-five hours of work time in a week, answering queries alone.
In collaboration with Emerge, a digital solution was developed through a chatbot to provide answers to every applicant's inquiry, leaving no questions unanswered. In line with Emerge's "Digital First" rule, the team designed and applied digitalization on TopData's Chatbox.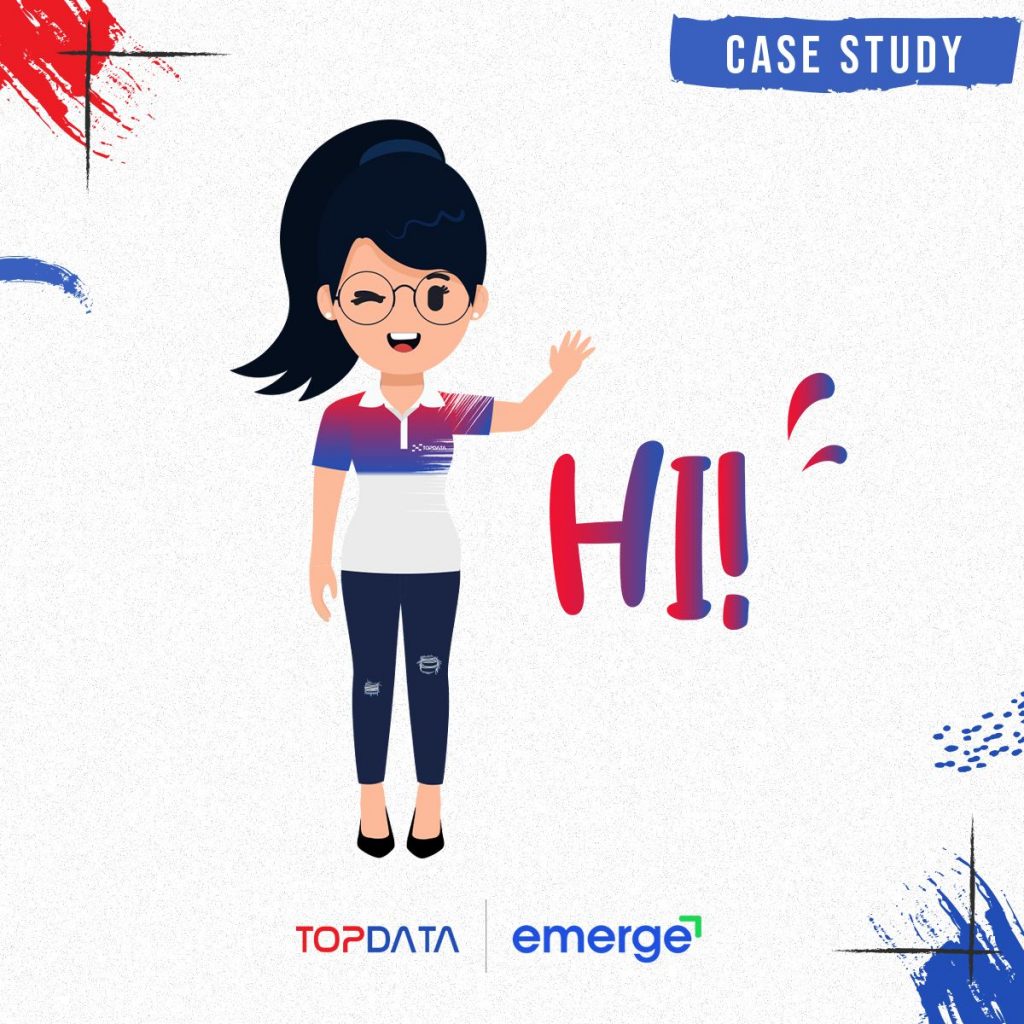 TARAH chatbot, engineered to process applications sent to the recruitment department for reviewing all job-hopefuls, can check their status and address post-application queries. These features elevate and ease the application experience.
TARAH caters to each candidate's query through the "Ask a question" feature. She also introduces TopData as a company and its environment in a human approach. It all enables proactive client engagement, building the applicant's trust and receiving the lasting impression that the company is concerned about them. As a result, the company's brand impression improved through TARAH's services. Eventually, it lessened the time allotted for the recruitment department in responding to messages which allowed more time for strategizing.
Darlene Tocmo, a TopData recruitment manager, encourages other companies to integrate digitization on their query system and recruitment process. "I guess the hesitation for some is that chatbots cannot understand a customer's tone, and in a way, that's true, but you can personalize every transaction like TARAH. It helps you manage your inbox, and repetitive questions from your audience will be answered right away," she pointed out.
In line with its success and application of the "Digital First" rule, Richard Normor, Emerge CEO & Founder, shared: "We greatly appreciated that TopData reached out to us pre-pandemic to help them with their recruitment needs. Their open positions are highly-technical, so they opted to have a chatbot in place to save time on answering inquiries from potential applicants with the same messages. Now, they can focus on what's more important, which is to intensify their recruitment marketing and optimize the recruitment processes."
Making their mark in the duration of the pandemic, Chatbots have enabled Human Resources (HR), recruitments, and customer service departments to communicate with employees and consumers 24/7 and avoid long wait periods. In implementing TARAH, Emerge's framework for virtual assistance efficiency is its ability not just to respond but answer 80% of frequently asked questions, with minimal need for immediate re-routing to human response.
Have a hard time responding to messages in real-time? Make digital marketing uncomplicated for your growing brand and discuss your digital goals with Emerge by booking an appointment on their website emerge.com.ph