Christian Aaron Bondoc is known for many things: a junior architect, a leader, public servant, businessman, licensed plumber master, and an artist.
But this 27 year old Kapampangan from Tarlac City is more than the works of his hands, a closer look; you'll see a good-natured fellow with a heart that beats loudly on advocacies for self-development, the cultural arts, and protection of local identity- all immortalize, on his artworks you might actually have encountered.
The Artist
Growing up the youngest and only boy in the family, he grew up supporting himself and his studies through his arts, since graduating from high school and even after graduating BS Architecture from Tarlac State University.
He describes himself as a multimedia artist, traversing projects in Arts, be it as a hobby or space in art competitions.
"I am used to joining competitions and working under pressure; my creativity is at high when I know that there's a deadline and somehow, I need to present an excellent work worthy and pleasing within a given time." Bondoc shared.
Parts and parcels of his artistic world are joining (and winning) local and national competitions; his favorite among many is his piece called Pangarap sa Likod ng Isang Litrong Liwanag, a watercolor painting depicting Filipino ingenuity in inventing solar-powered bottles to light Aeta communities in Bamban, Tarlac.
From a young age, he continues to hone his skills through static and mural art, body painting, and the like. An able leader, his experiences in management and organization played well for his artistic endeavors, handling complex and constraining projects with results par excellence.
"Joining competitions means getting the experience to improve more of your talent since you are being challenged by factors such as time constraints and competitors," Bondoc said.
He added that competitions get him exposed. These distinctions attract potential clients in the field, including cafe owners.
The Four Cafes
Cafes are intrinsic spaces in today's busy world. No wonder coffee shop owners go to great lengths to give their cafes an inviting aesthetic and ambiance, going to Aaron to make it happen. Yet, for our artist, these are not just canvas for showcasing his art, rather bring life and story, all repeatedly told on cafe walls.
"Personally, since I am really a fan of coffee… I am a fan of coffee shops because the ambiance where I sip my coffee is important." he remarked. This space refocuses Aaron's creative imagination, particularly on conceptualizing each coffee shop he is commissioned to work on and making sure their individuality and branding are distinguishable.
"Conceptualizing is my favorite part of every design creation." he pointed out.
Usually, his concepts are rooted in the client's identity for the cafe, spending time brainstorming with them. He inquires not on business questions alone but also on the cafe's future and its owner's plans. Next, he adapts related materials or ideas like local symbolisms, historical background, or if the theme is "farm," he incorporates elements of planting and harvesting.
An example is Cafe Cultura in Bamban. According to Aaron, its supposed Pinoy-inspired meriendahan vibe drove him to use tropical plants to build Filipino identity and have customers relate to its interior space. Lockdowns temporarily halted the store's construction, giving the owner ample time to redirect the store and turn it into a coffee shop. He then added more accents related to coffee that added a warm, cozy, and homey feel to the tropical layout.
Another work of his is found at Heaven In A Cup. Many customers feel urban lifestyle even though they are in the province with the concept he introduced on the cafe's wall decorations. He started with a monochromatic design inspired by the creation of milk tea.
"I used the concept of 'factory' as the main inspiration where large pipes, machines, and tubes are the main visual representation," explained Aaron. It has evolved to different designs because of different artists commissioned to do the other stores, but his touch established its character and has been known for it ever since.
His work on Thirsty Bastards is a take on modern and playful murals, giving a millennial vibe that works well with people who are always on the go. The modern street vibe represents each store's location, characterized by their unique color that is catchy to modern-day youth purposely "for the gram"; evidently, no one leaves the cafe without taking a picture bound for social media.
And then there's Woods Cafe in Tarlac, which houses a design that popularized Aaron in the field of cafe murals. There's that saying on how we never forget the thing that brought us where we are today. The simple but perceptual doodle design is one of the catalysts as to why Aaron got to paint more walls and bring identity to life– bottomline, his establishing works make it look as if he has been doing the craft for ages, always stirring, always affective.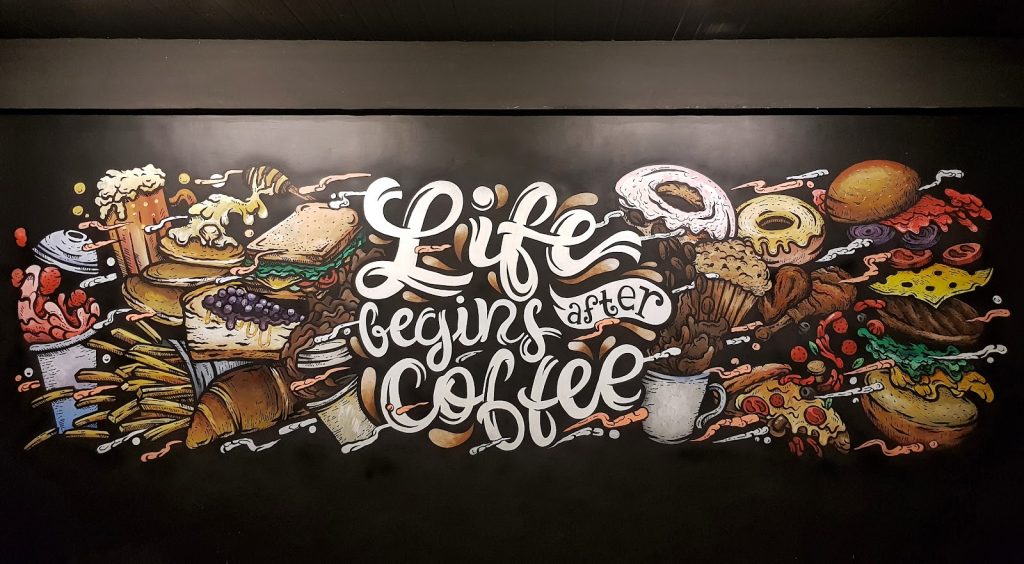 The Artist Forward
But beyond the spaces of cafes, Aaron's art may pop out wherever and whenever you least expect it, regardless, one thing is certain– his art will always leave a mark despite being stagnant on the walls he brought them to life on.
"Everything I do is interconnected to me. Even if other hobbies may seem to look non-art related, they're all connected," he said. "Seeing people, scenic views, and life from different perspectives inspires me to create art from all angles," he adds.
In the new normal, we are always on the lookout to inspire and bring color to what seemed to be a monochromatic lifestyle. His art will come through. You can visit other places that house a Christian Aaron Bondoc masterpiece: Que Residences or the Kaboom Diner up in Pangasinan. This year, you'll never know what you'll encounter, which means constant lookout and being ready to appreciate the unconventional places we visit.
For Aaron, however, 2021 would be a year to continue all the plans halted last year but "adding more maturity and sensibility in it." He eyes a professional license, an advocacy-driven masterpiece, business ventures, and pursuit for a purpose-driven life.
In this sense, Aaron is sure that whatever is bound to happen in the future, these will always be something he is proud of.
"I always believe that when you start your journey, you know what's important for you, but you don't know necessarily where you are going, but you know that, if you make the decision based on what's important for you, wherever you're going to end up, it's where you need to go. One thing is for sure, art is still part of my future." our artist assures.