SM CITY CLARK – Belo Medical Group opened its newest clinic at the premiere mall last month, serving up the classic Belo touch to their customers and patrons.
Must-have treatments at Belo Clark includes:
Vivace
This machine uses high-intensity radiofrequency and microneedling, aimed at remodeling the deeper layer of the skin via stimulation of collagen and elastin production. What makes Vivace unique is its ability to also improve skin quality issues, such as pigmentation and uneven skin texture.
Angel Whitening
Loved by many celebrities, this is the laser of choice for lightening and smoothening skin on the arms, underarms, groin, knees, and elbows. It is also used to lighten dark under eyes (thanks to its unique 'panda eyes' setting) and erase insect bite marks and hyperpigmentation.
Mermaid Facial
The Mermaid Facial makes use of a patented deep wash technology to create "microbubbles" that cleanse the skin to prepare it for exfoliation with alpha hydroxy acids (AHAs) to produce healthy, hydrated skin.
Exilis
A painless slimming treatment that uses thermal waves to melt unwanted fat and improve skin laxity and texture. It is frequently used on the face, tummy fat, and arms. Perfect for people in their 20s who want to begin preventative anti-aging measures—or tone up for special occasions.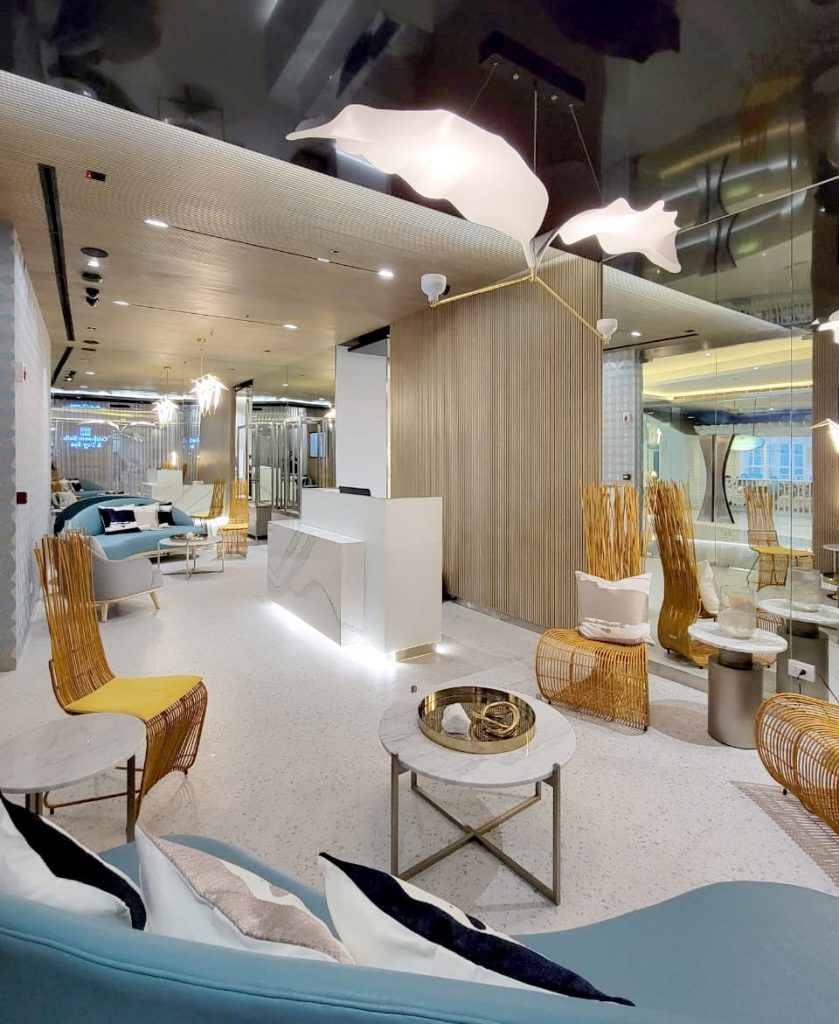 V-Contour
This injectable solution of plant-based extracts has revolutionized the way we improve facial shapes and contours. Double chins, wide facial features, square jaw lines, and high cheeks can now be treated effectively without surgery or lasers—with zero downtime and almost immediate results. V-Contour may also be used on the arms, armpits, tummy, thighs, and calves.
Stock up on ZO Products
These products consist of powerful ingredients to deliver stunning and noticeable results. From correcting sun damage and pigmentation, to protecting skin from future damage, ZO pushes the boundaries of medical-grade skincare to restore skin health.
BioNutriGlow
BioNutriGlow® is a mesotherapy procedure that infuses New Cellular Treatment Factor (NCTF®) into the skin surface—either via microneedling, or with the Belo-exclusive intradermal needle, Nanosoft®. The treatment helps to achieve baby-like skin quality by addressing issues such as dullness, dehydration, lack of density, fine lines and wrinkles, and imperfections. One session will give you immediate, visible results.
Photo Credits from Belo Medical Group Facebook Page
The clinic is an artwork, ushered by acclaimed interior designer, Budji Layug, who also designed the New Clark City's famous Sacobia bridge. Layug, transformed the clinic into a fun, whimsical, and youthful space that will certainly cater for all Kapampangans and tourists alike.
A play of color, geometrical shapes, lighting, and patterns resulted in a luxurious space that made patients feel young and beautiful.
"One of the most important things to me when you enter a space, is that you feel good and you want to come back." says Budji when asked about his design for the clinic in Pampanga.
After countless lockdowns due to COVID-19, Belo Medical Clinics welcomed back their customers last October 16, 2021. Under Alert Level 2, personal care services such as aesthetic clinics, and cosmetic or dermatology clinics are allowed to operate at a 60 percent capacity.
Furthermore, all employees at Belo Medical Group have received their COVID-19 vaccine to ensure that clinics are safe places for all patients and staff. Likewise, DFS-equipped Air Intellipure systems are installed in all treatment rooms and common areas in every branch.
To book an appointment at Belo Clark, call 8819-BELO (2356) or visit belomed.com.