"Para sa mga pogi"
This was the quick-witted reason (at first) as to why Geraldine Delos Reyes and her two siblings conceived on creating a home-based crochet business- Thread Maria's Crochet that is taking K-pop fans like them hyped up.
They began offering services last January of this year for Valentine's day with Crochet Sunflowers, Roses, Tulips and Lavenders in stylized bouquets as gift-alternatives for couples.
"It was an idea of our youngest, she has basic knowledge on crocheting" shares Delos Reyes. We just want to earn extra money for our Hobby, which is collecting Kpop Merch- 'para sa mga pogi', as we joke when we talk to each other. It was in April when we decided to do Crochet related to Kpop merch," she points out.
Crochet is needlework consisting of the interlocking of looped stitches formed with a single thread and a hooked needle forming various shapes like plush toys, clothes, and bags. 
Sisterhood of the Crocheting Plans
At first the siblings were doubtful on starting up, they often scramble thinking where to buy low- price materials, and if there would be people patronizing their products.
"We had to do research on details on how commission works in crochet. We saw how big the crochet community was, and we need to come up with unique ideas to attract future clients." Delos Reyes said.
When asked about how their name came about, the siblings lamented how they listed "a lot of names" before settling with Thread Maria's Crochet.
"My sisters chose what exactly represents us, from the popular 'Tres Marias'" a nod to the expression of three sisters in a group. Later changing Tres with Thread as a play of words with yarn used on crochet.
"Maria is also the name of our Lola" adds Delos Reyes, "we want to associate her name with our business because my Lola really loves to do Crochet and maybe it runs in the blood. She's a great crocheter. She's awesome!"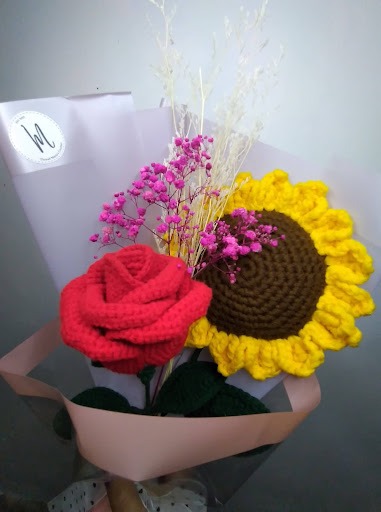 Photo Credit: ThreadMaria's Crochet
Crochet for our IDOLS
Crocheting is arduous work, but the siblings realized that with the right intentions crocheting is more like bonding and moments of fun.
"Yarns and crochet hooks are two primary materials of crochet but Time and Love for the products are two important elements in doing it," affirms Delos Reyes. "We are Kpop fans, multifandom as we called ourselves. We want to do kpop-related merch that can be used by our fellow fans." she adds. 
Among their designs are for Seventeen (13-member korean group) related crochet items. From Carat Bong ( Seventeen official lightstick ) crochet cases to Carat Bong hoodies. They have clients who request for customized items as well.
"We really love the idea of doing this, crochet for our Idols. Eribong (EXO lightstick) and Engenebong (Enhypen lightstick ) are our next project- 'Kumikitang masaya!'"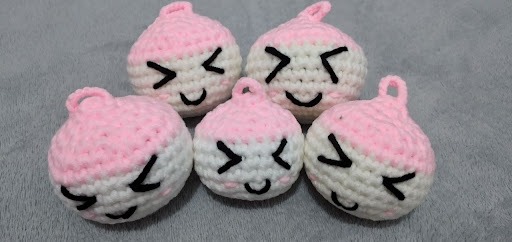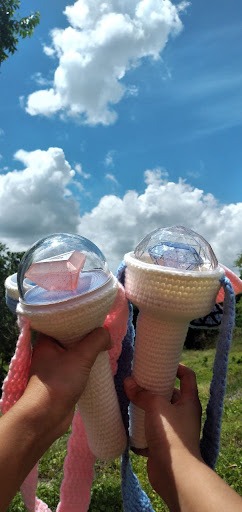 Photo Credit: ThreadMaria's Crochet
Asked on how they see this venture in the future, the siblings hope they can explore the world of crochet more, so they can offer perfect gifts for everyone. Establishing their name in the industry is somehow a second goal, their priority is to create happiness in every box any customer or Kpop fan will receive.
"I hope that we can offer a variety of Kpop related crochet items for every Koop fandoms in the future. We can share the same love as we make our items for our idols. To bring happiness and excitement to every fandom as they open their parcels," Delos Reyes envisions.