CLARK FREEPORT— The Clark Development Corporation (CDC) in partnership with various government agencies here officially launched its "One-Stop Processing (OSP) on wheels", a project dedicated to bringing services closer and inclusive to more than 120,000 workers in the Freeport.
CDC aims to mobilize the OSP on wheels on a weekly basis to ensure that there will be no work interruption among locator companies within Clark and to accommodate the workers' needs on-site such as information on processes and services available.
The said project is the brainchild of CDC President and CEO Atty. Agnes VST Devanadera who took swift action in implementing the OSP on wheels after a recent meeting with the heads of government agencies providing services at the One Stop Processing Center (OSPC) located in the Clark Polytechnic compound.
"CDC should also be at the forefront of thinking not only of the welfare of locators, but the welfare of the employees who make the locator's businesses thrive. We earn, the locators, the investors earn because we have the employees, and the employees have to be taken care of at this point in time," Devenadera said.
"With the same budget of the participating government agencies and CDC together with the locators and the businesses, we have a program. A program that would be very responsive to the needs of our employees," she added.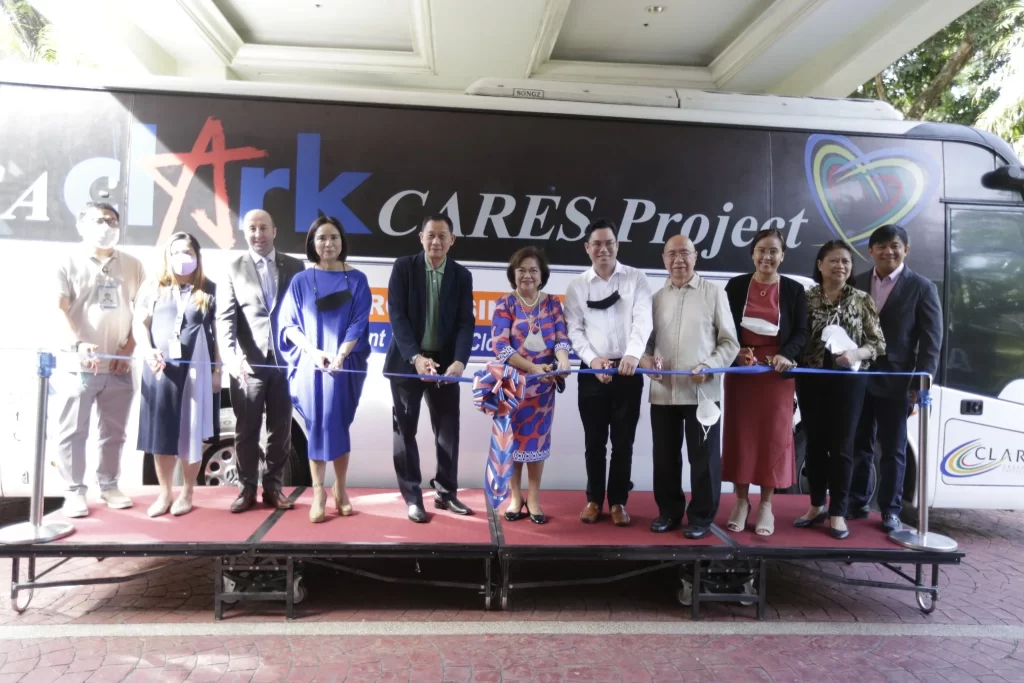 According to Devanadera, the OSP on wheels is also an example of the empowering programs that CDC created to provide non-fiscal incentive packages for Clark locators.
"We would also like to think that this kind of program is something that we can include in our list of non-fiscal incentives for our locators. So this is very important and we are hoping that we can have more non-fiscal incentive programs. This is our way of helping the locators," she mentioned.
Before the said launch, Devenadera led the ribbon cutting ceremony held in front of the Quest Plus Conference – Center Clark which also showcased the 'Clark Cares' bus that represents the OSP on wheels.
She was joined by CDC Director Atty. Ana Liza Peralta, CDC Vice President for Admin and Finance Engr. Mariza Mandocdoc, CDC Vice President for Business Development and Business Enhancement Rynah Ventura, CDC Vice President for Legal Affairs Atty. Josep Jepri Miranda, CDC Vice President for Engineering Services Jose Miguel Dela Rosa, and Vice President for Security Services PMGen. Keith Ernald Singian.
Also present during the activity are Filinvest Mimosa Inc. Senior Vice President Francis Nathaniel Gotianun, Mimosa Cityscapes General Manager Michael Andrea Gapin, Pag-IBIG Fund Central Luzon I Area Head Christian Chua, National Bureau of Investigation (NBI) Officer-in-Charge Willa Diamante, and SSS Senior Member Service Representative Brian Dean Lapid who also shared their messages.
Devanadera thanked the government agencies and CDC employees who helped to make the project possible through its Corporate Social Responsibility and Placement Division (CSRPD) headed by CDC Assistant Vice President for External Affairs Rommel C. Narciso.
"I thank my CDC family for joining me in always thinking out of the box. With all of us joining hands together, having the heart in our right places, there is nothing that can beat our team and I know that we should have inclusive growth not just for the business people, but for the government and the employees as well," she said.