While other fast-food restaurants are toning down their stores and recreating their meals due to the pandemic, Cindy's Bakery and Restaurant braved the tides. They opened its newest location at CityWalk Tarlac City, introducing a contemporary concept, homely ambiance, and mouth-watering new flavors that patrons and new customers will surely love.
Our moms and dads might remember the 80's jingle: "When you're hungry… Cindy's the place to be…" and the famous old locations like Olongapo and the original Tarlac's F. Tanedo, which sported a family-friendly diner, but Cindy's has come a long way, and it's ready to embrace the future generation as a new batch of patrons.
The Place To Be
Ushering a contemporary atmosphere, new interior, innovative equipment, and fresh designs. Cindy's is redefining what it means to be "The Place to Be."
Strategically located at the hustle center of metro Tarlac, where government offices, schools, and other business centres are found; the place is a mix of cafe, bakery, and diner feels all in one, with generous space to do your work in case you want to stay a little longer (I mean why wouldn't you?)
Use the ample time to try several of their baked bread and pastries, not to mention their affordable full meals to complete your day.
Photo Credit: Ge Baladhay
"It was a year in the making, and we wanted to make sure that the new concept store will match the taste of the right market, millennials and Gen Z" shared Jon Chua, manufacturing manager.
"Really happy and excited how it turned out… in a few years time, hopefully, will have more stores adapting this new concept and providing space for younger generations" he added.
Apart from the modern take, the place made sure it still has a whiff of traditional Cindy's ambience, albeit enhancing their facilities to provide customers that fresh out of the oven bites.
Fresh Out of the Oven
There is nothing more comforting than a warm piece of bread with your favorite flavor and fillings. Cindy's know this at best and they made sure it's a part of the store's overall experience.
Photo Credit: Ge Baladhay
You can see the goodies being made, molded, kneaded, and baked. A glass window is set up for the baking counter, giving you a front-row view of how Cindy's bakers create your favorites before they arrive on the shelves.
The signature cakes and baked products such as ensaymada, pineapple-filled donuts, bread rolls of sausage or cheese, soft cheese bread, ube-cheese pandesal, and loaf bread are all must-tries!
It's a feast for your senses. See how it's made, hear the kneading and pounding of the dough, and smell the aroma once it pops out of the oven, warm and fresh- and ultimately tasting them to your delight.
New Flavors to Savor
But they are not stopping there.
Cindy's also introduced their new food meal sensations. Aside from the well-known pancit palabok, you can now try various breakfast meals and lunch deals, especially their new roast beef and burger steak medley, which you can match with either rice or mashed potatoes.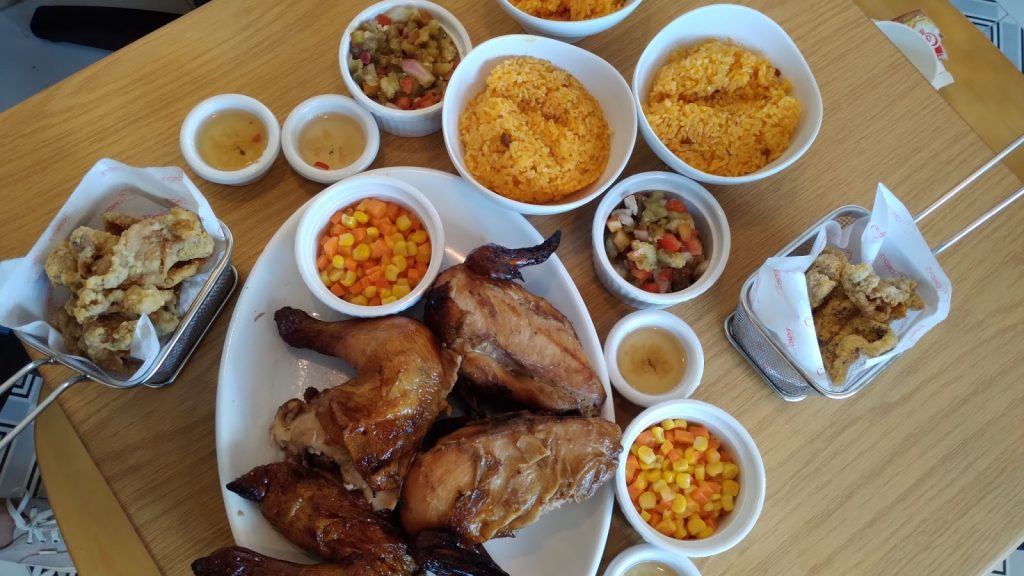 Photo Credit: Ge Baladhay
Also, have a taste of their barbeque chicken and pork on a stick, platter offerings, sandwiches, burgers and fries, creamy soup, and one of the stars of their menu- a pack of deep-fried chicken skins that makes you smile in every bite!
"We are really excited for customers to try the new offerings, and for them to experience what the concept store has to offer," said Jakielou Eleccion, Cindy's CityWalk branch manager.
Since 1972, Cindy's has been catering to its customers for almost 50 years. With over 60 bakeshops and 120 bakery dealers and retailers nationwide, Cindy's new concept store is truly a food journey that encapsulates why it is the place to be, be it for the old generation and new ones.